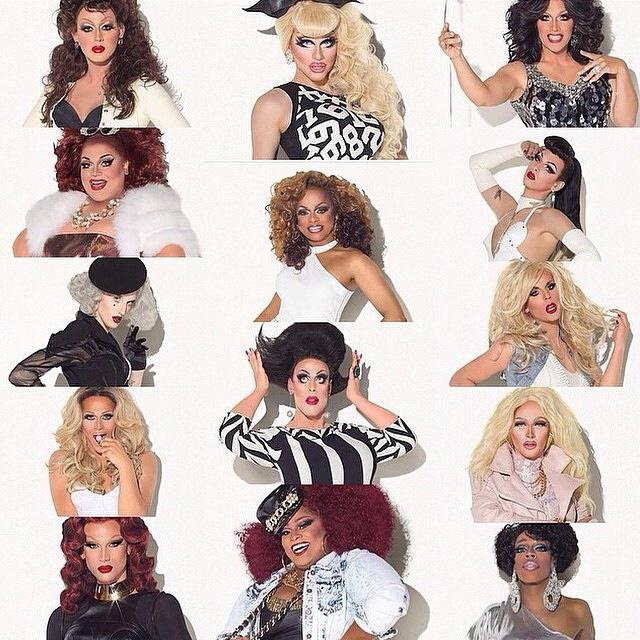 Home.
If that doesn't work for you because you're po', or cheap, or sleeping on someone's floor, or, one of those hippies who doesn't have a tv (pinko), then you probably have to go to a bar to watch the rather worn out antics of a show that peaked over two years ago…yes, it's time for the premiere of RUPAUL'S DRAG RACE SEASON 7!!!
Blerg.
Note: we watched the first 45 minutes of the first episode and we were frankly bored. The casting this year isn't very good. Far too many "personality" queens. The success of quirky queens in seasons past (Sharon, Jinkx, Alaska, Adore, Bianca) has resulted in LAZY ass casting from World of Wonder. There's a couple vague pageanty types but for the most part it's just a bunch of raggedy, po-mo drag divas are trying to be original and daring but largely just loud and annoying…again, imo. Also: there are no Asian queens this go round, but we do get another tired Puerto Rican hookah. I'm pretty sure P.R. ran out of talented queens to off shore about 3 seasons ago….ENOUGH with the raggedy hos from San Juan! There ARE other amazing queens of Latino descent in this country!!
Also: the "nude" runway challenge is 'meh'. They're not good actors and since the contestants are TOLD before leaving for the taping what to bring, they already kinda have a vague idea what the runway looks could be. If you're told to bring a tearaway resort wear outfit and a nude body stocking, then you probably have some sort of inkling what could be up… (Oh, was that a spoiler? Too bad…it's been all over the adverts and pre-premiere coverage. Didja really think the bitchez were gonna be NUDE/NUDE????!!!??? Gross.)
Anywhos, in Gayo Seattle, where do you go PUBLICLY to watch these Hungry Games?
Two of the Scotts, Isaac & Andrew, are hosting an ALL AGES viewing at Julia's
RuPaul's Drag Race: Season 7 @ Julia's on Broadway!
The Drag Queen I've Yet to Meet, Miss Honey B. Snatch, is hosting a viewing party at 500 East, The Bar Formerly Known as "World of Too Many Beers For Me To Care About"
Ms. Honey B Presents: The RuView
Sinfinite Events aka Arden & Jimmy have Kaleena Markos and James Majesty hosting their own par-TAY at  95 Slide, which I guess is kinda gay now.
There's always the option of R Place, where Robbie "#RPDR8" Turner will be BREATHLESSLY holding court, with fingers crossed she'll make it on the show in the foreseeable century.
Diesel has the other Honey flavored White Meat, Miz Honey Bucket on hand for their hairy party…
We're also guessing most homophile eateries/drinkeries will have their tvs tuned to the only hit LOGO has had, or will ever have…
ADDED: We've been told St. Johns, aka The Boite Formerly Known as Rosebud" will also host viewings.
So, there you go…start those drinking engines and let the best tired, "Seattle doesn't care that much since they didn't cast a Seattle queen this season" woman WIN!!!!
Of course, we already know who the Top 3 are….
Tags: RPDR Viewing Parties, RuPaul's Drag Race, RuPaul's Drag Race Season 7