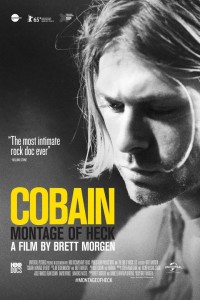 If it wasn't sold out and if I didn't have another commitment, I'd be the first one in line for Thursday evening's opening of the long awaited Kurt Cobain documentary, Kurt Cobain: Montage of Heck which debuts at The Egyptian at 7pm with director Brett Morgen in attendance. While the director attended appearance is sold out, tickets remain for the rest of the day's screenings…snatch them HERE.
(I'd ask about the awful title, which has relevance to Kurt's life, but it's still a terrible title…IMO)
The long awaited film debuted at Sundance this past January and has earned rave reviews, mainly for the intimacy of the portrait. "Montage of Heck" is the first Cobain documentary to be produced with the cooperation of the surviving members of Nirvana, plus Kurt's widow, Courtney Love, and daughter, Frances Bean Cobain, and features never before seen material from the Cobain archives. It opens nationally on Friday, (Nirvana/Cobain home base Seattle gets a one day head start) for a limited run of two weeks before its HBO debut on May 4, 2015. (HBO funded the film with Universal.)
Hailed as one of the most innovative and intimate documentaries of all time experience Kurt Cobain like never before in the only ever fully authorised portrait of the famed music icon. Academy Award® nominated filmmaker Brett Morgen expertly blends Cobain's personal archive of art, music, never seen before movies, animation and revelatory interviews from his family and closest friends. Wildly creative and highly acclaimed, follow Kurt from his earliest years in this visceral and detailed cinematic insight of an artist at odds with his surroundings. Plus, in an exclusive interview for cinema audiences, Brett Morgen discusses his unprecedented, intimate access to Cobain's family and past.
It's a must see for Cobain fans, Nirvana fans, "grunge" era fans and anyone still alive from that time period. Since Seattle is a major character in the film, expect to see a few teary eyed Cobain family members, friends, peers and fans in local audiences.
I'm gonna go listen to "Unplugged", my favorite Nirvana album, mainly because it features Kurt talking between songs, many of them covers of non-Nirvana material AND it was recorded a few weeks before Kurt's death. It's hauntingly beautiful and raw.
The trailer will give you goosebumps…especially when you hear little Kurt proudly proclaim, "I'm Kurt Cobain!!!"
Tags: Brett Morgen, Documentary Film, Kurt Cobain, Kurt Cobain: Montage of Heck, Seattle Film, The Egyptian