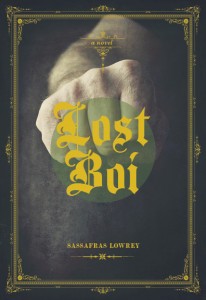 Have you ever wondered what it would be like to live as an adult but still keep the sense of magic, joy of new discoveries and love of those things you treasured from childhood (think My Little Pony, stickers, Disneyland) in your life? Sassafras Lowrey doesn't have to wonder because that is hir life. Ze lives in New York City with hir partner, two dogs and three cats and has authored three books previously.  Hir newest book, Lost Boi, is a queer/punk retelling of the Peter Pan story and was released last month by Arsenal Pulp Press. Ze was kind enough to answer a few questions about hir book and personal life.
 Kate West: What sparked you to reimagine Peter Pan in your newest book Lost Boi?
Sassafras Lowrey: I've always loved the story of Peter Pan. Ever since I was a small child I was fascinated with the idea of a boy who refused to grow up, and who was played by an adult woman (I had a VHS tape of Mary Martin playing Peter Pan in a stage production)! It was definitely an early inkling to my own queerness. When I revisited the story as an adult, I was fascinated by the way the story itself is represented in our world, like the cultural phenomenon of the "Peter Pan syndrome", and by just how dark the original story was. In writing Lost Boi, I was really interested in playing with some of those themes and transcribing queer lives/bodies/relationships onto this classic story.
KW: How does being Leather, and living life as a little, influence your work?
SL: Leather culture has had a huge impact on my life and the way that I have lived in the world since my late teens. For me it's impossible to separate Leather culture from queer culture, and so it's always felt very natural to include it in my writing. As a queer author it's really important to me to write stories that reflect the communities that I call home, and so that means writing books that aren't erotic in nature, but depict Leather dynamics and relationship structures. There are definitely hints of little identities within Lost Boi.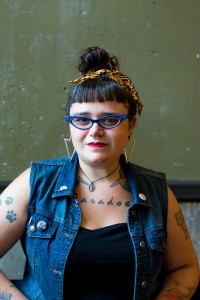 KW: I know you're not getting rich writing queer books for people like me. What keeps you going and inspires you?
SL: Ha! It's true there is very little money in writing books but I don't write to get rich. I am inspired to keep writing because of the feedback I get from queer readers that in my stories they see their identities/bodies/relationships come alive on the page. I can think of no better or more inspiring feedback I could receive as an author than that my book was able to help someone feel seen.
KW: How does your Daddy and/or other Leather family support you in your efforts to create and live a writing life?
SL: I can't imagine writing without the support of my Daddy. So much of how I'm able to do this work is because of the structure and containment that ze provides me. We have a really whimsical and magical home with our dogs and cats, and that grounding is what enables me to go out into the world with these stories. I'm pretty introverted by nature and so having my Leather family who I know I can trust and depend on has been invaluable.
KW:  Do you see a bit of yourself in Peter? Do you ever plan to grow up?
SL: In Lost Boi, I find the character of Pan to be incredibly seductive but I wouldn't say I identify with him. Of all the characters in the novel the one I found myself most identifying with as I wrote, was Toodles. Like a lot of queers of my generation, in the last decade I've found myself making lots of choices that my younger punker self would have really judged. College, long term primary partner, holding down a solid job, buying a home – I definitely have "grown up." It was in fact watching myself and others in my community grapple with what it meant to grow up (or not) that was some of my early inspiration for Lost Boi. Although I chose to grow up, I'm also really committed to finding magic wherever I can- which for me is where the intersection with Leather culture and being little identified comes into play (pun intended).
---
If you would like to meet Sassafras in person and hear hir read from Lost Boi, head over to Elliott Bay Book Company on Friday, May 8th at 7:00 p.m.
Tags: Elliot Bay Book Company, Leather Events, Literary Events, Lost Boi, Peter Pan, Sassafras Lowrey