It's Saturday the day after the ultimate victory for Marriage Equality in the United States and it's Pride Weekend in Seattle and it's RIDICULOUSLY hot and there are ONE ZILLION fun options to celebrate that victory and Pride.
Here's a FEW for today BUT with a couple warnings!
ONE: It's freaking HOT AS HADES out there so HYDRATE, HYDRATE, HYDRATE! And, that means WATER! Plain, non-flavored water is best! Drink LOTS of it today! Especially if you are drinking booze (booze DE-hydrates you) and/or doing any other enhancement drug (even pot, which is also a huge de-hydrater).
TWO: Be safe! Especially if you're wandering around at night and especially if you're alone and super especially if you're dumb enough to wander around alone at night while drunk/high. There are NASTY people out there who want to MUG you! It happened to everyone's favorite printer, DAN LANE last night who was mugged/shoved to the ground at Broadway/Pike St. BE VERY CAREFUL while celebrating Pride! Try to travel with several people and be aware at all times of surroundings and situations!
THREE: Be safe sexually! This goes for EVERYONE! Booze+Drugs+Joyful Pride+Hot Weather+Presence of Sexy Out of Towners=Lots of Opportunities For Zexy Good Times! Even if you're on PReP, use condoms with strangers! Lots of NASTY STD's out there including the disgusting Shigella! (No, not Shangela….) And, for ladies who might hook up with some gents, who wants a surprise pregnancy from a drunk stranger? CONDOMS ARE STILL OUR FRIENDS WHEN IT COMES TO RANDOM DRUNKEN/HIGH SEX!!!!!!
Enough finger wagging! Here's some options for today/tonight and see ALL of them at our Seattle Gay Scene Pride Guide/Calendar. The major two FREE/Family Friendly events for daytime are obviously the annual Capitol Hill Pride Festival on Broadway and PrideFest in Cal Anderson Park. PLUS, there's the Dyke March/Rally this evening and two big street parties for grown ups, the Wildrose "Bush Garden" Party and the Purr Block Party.
June 27, 2015  10:00 am
Capitol Hill Pride Festival March & Rally 2015 Sat. June 27, 2015  10am-11pm Six blocks on Broadway of food, vendors and entertainment Annual Features: The annual Capitol Hill Pride Festival Doggie Drag Costume Contest to benefit the Seattle Humane Society's Pet Project The Rainbow Women's Health Fair Julia's Restaurant and LaCocina Entertainment Stages Pony Rides …More Information
June 27, 2015  11:00 am
An event hosted by YWCA Women's Health Outreach during Capitol Hill Pride Festival! Creating a safe space where people of all genders and sexualities are treated with respect and served by LBTQ-friendly health providers. Free mammograms for uninsured people over age 40, insurance is welcome too. Free pap tests for all. Hablamos espanol. To make …More Information
June 27, 2015  11:00 am
We're having a brunch and would love your company. Showtime is from 11 am until 2 pm on Saturday the 27th. Not only will I be on stage, but I'll be joined by a few AMAZING entertainers. ***La Saveona Hunt (SEA) ***Beardoncé (VAN) ***Spray Jay (SEA) With a reading by Yani Robinson WE ARE CELEBRATING …More Information
June 27, 2015  12:00 pm
SATURDAY, JUNE 27 – BLOCK PARTY Open at 12PM ($25) DJ Bret Law DJ Dana Dub The Perry Twins The Perry Twins are Los Angeles based DJs/Producers who hit #1 on the Billboard Club Play Chart with "Bad, Bad Boy" featuring Niki Haris. "Bad, Bad Boy" is the follow up to their debut single "Activate …More Information
June 27, 2015  12:00 pm
BEATS BY: Cristina Ortiz Joey Webb Jayson Spaceotter DjRobby Clark DJ Trinitron MORE DJ announcements to come FRESH bloody mary DELISH food DOGS WELCOME THE ORIGINAL HOUSE MUSIC BRUNCH living the dream since 2011 *No reservation needed….. we'll cram ALL of you up in here on the patio, inside, in the bar, in the back …More Information
June 27, 2015  1:00 pm
Back for a third year, PrideFest Capitol Hill has two stages–one with family and all ages programming and a DJ stage and a beer garden for the rest of us. Join us in Cal Anderson Park and 11th Avenue for another fun year of PrideFest Capitol Hill Let's celebrate 41 years of Pride in Seattle …More Information
June 27, 2015  1:00 pm
WILDROSE PRIDE 2015!!!! JUNE 26-28 3 days of Dj's, Bands, Dancing, Drinking, and Eating! ADVANCE TICKETS ON SALE NOW – AVAILABLE AT WILDROSE Limited availability so get them while they last! Weekend Pass– $28 VIP Weekend Pass– $50 — Includes Weekend Pass plus a reserved seat under a tent for all 3 days. Weekend and …More Information
June 27, 2015  2:00 pm
▼ PRIDE IS FOR EVERYONE ▼ ((FYI: This cruise sells out every year, get your tickets early!!)) Hang on to your jock strap (or someone elses…), the epic daytime boat party returns! Join us on The Islander Champagne Cruises for a afternoon out on the water, cruising all around Seattle and dancing in the sunshine. …More Information


June 27, 2015  3:00 pm
Have you ever gone to a rugby match and thought to yourself: "This would really be better if there were more sequins and tailcoats involved?" Well then join the Seattle Quake men's rugby team as they play the Emerald City Mudhens and the Saracens women's rugby teams in a semi-formal game of Prom Dress Rugby, …More Information
June 27, 2015  3:30 pm
Come join us for the culminating celebration of Queer Rock Camp 2015, at our first ever Seattle Camper Showcase! We are delighted to be partnering with the Vera Project to put on this all-ages matinee show on the Saturday of Seattle Pride Weekend! Queer Rock Camp empowers youth and builds community through music. We support …More Information
June 27, 2015  4:00 pm
Pride Party 4-9:30pm: Open for youth drop-in, new youth welcome, full of fun activities planned by a youth committee. We will update with specific activities as they are decided upon by the committee. Dinner with Divas, a home-cooked meal, will be at 6:00 pm. Overnight Sleepover 9:30pm-9:00am: Starts at 9:30 pm, advanced sign up required, …More Information
June 27, 2015  4:00 pm
Free Pride Saturday Patio Party. Queer love oasis outside with your friends and DJs: *Res *Toya Harris *Kasio Smashio *Reverend Dollars *Julia PlanetDisco New icey cold strawberry margarita to turn you up and cool you down. Downstairs 7PM: Cucci's Critter Barn 10PM: Kiss Off More Information
June 27, 2015  5:00 pm
The 2015 Seattle Dyke March is on Saturday June 27th. Rally from 5-7pm at the Seattle Central Community College Plaza at Broadway Ave E and E Pine St. The March steps off at 7pm to go around Capitol Hill and back to the Plaza. WE STRIVE TO OPERATE WITHIN A FRAMEWORK THAT IS ALL ABOUT FEMINISTS, QUEERS AND …More Information

For your evening/nighttime fun options, we like Three Dollar Bill's GAYZER LASER show at Pacific Science Center; CUCCI'S CRITTER BARN and KISS-OFF at Kremwerk; RUFF PRIDE with lots of Canadian hotties at Fred Wildlife.
For the Twinkier crowd, there's Alex Garcia's ANYTHING BUT CLOTHES party at NEIGHBOURS UNDERGROUND. For our older lesbian friends and their admirers, there's HOT FLASH INFERNO'S PRIDE EDITION at 6pm at Neighbours UPstairs. MANY more options, down below!!!!
June 27, 2015  5:00 pm
**LUCIANA LIVE** Saturday JUNE 28TH Luciana, 'The Queen of Electro' is one of the world's most prolific electronic & commercial music recording artists. She has stood at the forefront of the electro nu-wave movement with a supercharged sound that has infiltrated dance floors across the globe, particularly the United States where she consistently rises to …More Information
June 27, 2015  5:00 pm
Join us for Capitol Hill's Pride Lounge during Pride Week Your place to rejuvenate, hydrate, eat and lounge all Pride Weekend. Every hour we'll have drag performances, music videos, DJ/VJ, dating game, trivia, dancing and more. For everyone visiting from out of the country we also have free wifi. >>>>>Friday 26th<<<<<< 5pm Pride Kick off …More Information
June 27, 2015  6:00 pm
Hot Flash Inferno is a Dance exclusively for Women and the Trans Community. Seattle we will have Guest performances by Emilio and Ceasar Hart…. D.j. WildFire will bring the house down with her mad skills….. Go-Go's…and more. Dance will be at Neighbours Nightclub 6-10 pmMore Information
June 27, 2015  6:30 pm
Celebrate your #SeattlePride with our new GAYZER LASER LIGHT SHOW at Pacific Science Center! We've curated a special show of queer music and visuals for a unique pride weekend experience. Songs from queer films, from LGBT icons, and some local artists. It's a trip from ballads of the past to dance favorites of today. Kick …More Information
June 27, 2015  6:30 pm
The Firing Squad and Morgue Anne Productions presents Pride Pre-Funk – A variety show of epic proportions! Before hitting the town for late night bar hopping, start the evening off with a special showcase celebrating Seattle Pridefest. Pride Pre-Funk is an extravaganza, an all out variety show featuring the most talented performers in the Northwest. …More Information
June 27, 2015  7:00 pm
HEY QUEERS! join us! Aeon Fux Sassyblack ManDate S (jenn ghetto) 7pm | $5 *restroom accessible by a steep-ish, short ramp w/ handrail, doorway is 29′, main doorways are larger. some seating available.* venue is right by the sodo light rail stop!More Information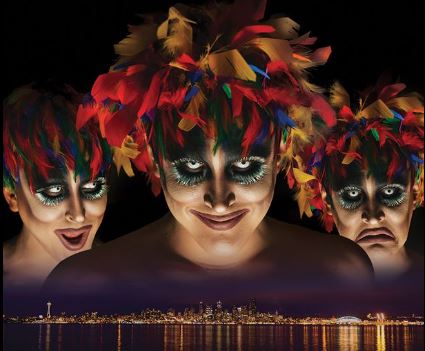 June 27, 2015  7:00 pm
Critter Barn will be showcasing local drag talent that couldn't get booked anywhere else on a Seattle Pride Saturday. crit·ter /ˈkridər/ noun North Americaninformaldialect a person of a particular kind. "that critter right there only came out at night" 21+ General Admission: $7 Senior Discounts (40+): $5 Doors at 7pm. Show starts EXACTLY at 8pm. …More Information
June 27, 2015  7:00 pm
On Saturday, June 27th, Linda's Tavern will be hosting their first-ever drag show! Starlets Kaleena and Cherry Markos, Stacey Starstruck, Deja Nouveau, and Brooke Lynn Bradshaw will be prancing, parading, dancing and serenading as you a your friends throw back the coldest Rainiers this side of… well, Mount Rainier. The whole shebang is hosted by …More Information
June 27, 2015  7:30 pm
Comedian Georgia Ragsdale explores her Texas roots in a quirky, poignant childhood to coming-of-age theatrical memoir. Set in suburban Houston in the 1960's and 1970's, short slide shows using family photos prove she is not making this up as she travels through a world of unusual characters and events. Illuminated with to-the-point stories and movement …More Information
June 27, 2015  7:30 pm
Buy tickets now for our 2015 Summer Concerts on June 26th and 27th! The Seattle Ladies Choir is made up of 50+ members with varying musical experience, from shower singers to professional musicians. Our diverse tastes and talents shine through in our biannual concerts, during which we perform songs by artists ranging from Sia to …More Information
June 27, 2015  8:00 pm
The XL Bear Bust is Seattle's largest monthly bear event and it happens every last Saturday of the month @ CC Attle's. Join the XL Bears plus hundreds of other handsome bears, cubs, and admirers at Seattle's strongest pouring bar. This month – it's the BEAR PRIDE party where we want to see you in …More Information
June 27, 2015  8:30 pm
R Place Presents Pride 2015 w/JUJUBEE, KENNEDY DAVENPORT, & WENDY HO Join us Friday and Saturday June 26 & 27 for the Lashes Pride show with RuPaul's Drag Race Season 2 and Allstar, JUJUBEE, and from Season 7, the phenomenal KENNEDY DAVENPORT. Joining them on stage is the beautiful and hilarious comedienne, singer song writer, …More Information
June 27, 2015  9:00 pm
▼ PRIDE IS FOR EVERYONE ▼ Nark Magazine presents our biggest Pride party ever, featuring two stages, a bevy of local artists displaying interactive art, projections, sculpture, kink, fetish, demos and eight consecutive hours of dance brought to you by some of the best this beautiful and amazing city has to offer. This is a …More Information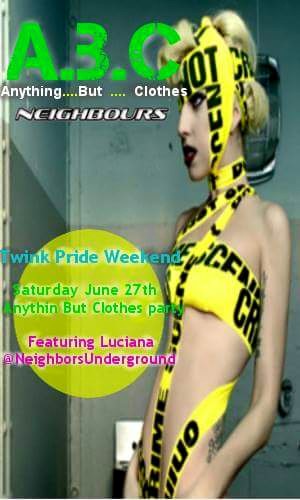 June 27, 2015  9:00 pm
There is a pride parties at bars for daddies, jocks, queers, leather boys….. so we figured it was time for a big Pride party to celebrate Twinks of every color and the men who love them. –>Friday Night Underwear Party –>Saturday Anything But Clothes Party Gogo boys, drinks specials, performances and more Whether you are …More Information
June 27, 2015  9:00 pm
MN Events and Lavender Underground present: RUFFpride SEATTLE Operation: Seattle Penetration begins this Pride. Saturday June 27, 2015 9pm – 3am Fred Wildlife Refuge 128 Belmont Ave. E Seattle, WA 98102 The 1st RUFF Seattle Party of 2015 will be an all-out war between Vancouver and Seattle. The Canadian RUFF army will be led by …More Information
June 27, 2015  9:00 pm
Neumos Presents: QUEER CENTRAL: The Soul of Pride ft. Sassy black (of THEESatisfaction) + Action Jackson (of Fly Moon Royalty) + DJGeneralMeow + Base Tan + Toya at the epicenter of Capitol Hill. Soul + Funk + Disco + Afro Futuristic Beats + Bounce + Trap + Rap and of course… some BOOTIE. $7 ADV …More Information
June 27, 2015  9:00 pm
Hosted by Kitty Kitty Bang Bang Performances by Kitten N' Lou DJ's Julia Planet Disco, Ozma OtacavaMore Information
June 27, 2015  10:00 pm
COME OUT TO THE HOTTEST PRIDE PARTY IN SEATTLE!! DJ SPINNING THE HOTTEST CUTZ!! SPECIAL SURPRISES IN STORE PLUS GIVEAWAYS!!! ONE REQUIREMENT: COME READY TO TURN UP!!! WHERE: THE SIREN 3403 4TH AVE SOUTH SEATTLE (SODO AREA) TIME: 10PM – 2AM!! $10 COVER!!! 21+ ID STRICTLY ENFORCED!! SPREAD THE WORD!!! CAN'T WAIT TO SEE OLD …More Information
(Visited 1 times, 1 visits today)