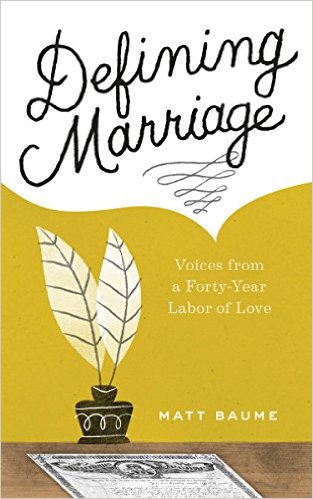 No one told us he was LITERARY!!!
Bunny Bixler and Muriel Puce will be PEA GREEN with envy!
Yes, "our" own Matt Baume, Seattle's favorite gadabout photographer/media hound/journalista/advocate/jack of all trades has written a BOOK about the fight for Marriage Equality, something he has been reporting on for many decades.
Defining Marriage: Voices from a Forty-Year Labor of Love is out now via Amazon.com and available on Kindle only. In the book, which utilizes material gathered for Mr. Baume's web series Marriage News Watch, the author "traces the decades-long evolution of marriage through the personal stories of those who lived through it."
More from the book blurb!
Along the way, (Baume) explores the individual stories of the people who participated in this revolution, examines what marriage has become, and shows with vivid, compelling personal narratives how the act of defining marriage forever changed the lives and loves of the people who fought to define the institution. As the journey to equality unfolds over the years, Baume finds himself unexpectedly evaluating his own self-contradictory life as a marriage activist with no plans to marry his longtime partner.

Over the course of years, the story of marriage is recounted through intimate, revealing conversations with prominent LGBT figures, allies, and grassroots activists. Dustin Lance Black shares the story of how his escape from childhood abuse prepared him to bring hope to millions; Dan Savage recalls his stubborn rejection of the closet at what was then an unthinkably young age; and Andrew Sullivan remembers the call for marriage in the 1980s that earned him enemies amongst conservatives and queers alike. Baume visits with Rob Reiner, who inherited a passion for social justice from his real-life parents and his television family; San Francisco Mayor Gavin Newsom, whose personal principles tested his career ambitions when he stood up to an unjust law and the President of the United States; and Seattle Mayor Ed Murray, a former seminary student who picked up the mantle of LGBT liberation after the death of a friend and mentor.

We meet accidental activists thrust into an international spotlight, like Amy Balliett of Join the Impact; Book of Mormon star Gavin Creel; and Clela Rorex, who in 1973 became America's first government official to issue a marriage license to gay couples. As marriage transforms, people all over the country find themselves and their loved ones at a crossroads of history: Molly McKay, who showed up at marriage counters to demanded a license every Valentine's Day for a decade until someone finally said yes; Jenny Kanelos, a small-town girl who mobilized all of Broadway; Juan and Tim Clark-Lucero, forced to race against the clock to marry before their legal window closed.
If you care about the struggle for marriage equality, it's a must read book! PLUS, it's FREE to download all this week from July 13 to July 17, 2015. It's a win/win…if you have a Kindle!
(Visited 1 times, 1 visits today)