July 23, 2015

•
by
Michael Strangeways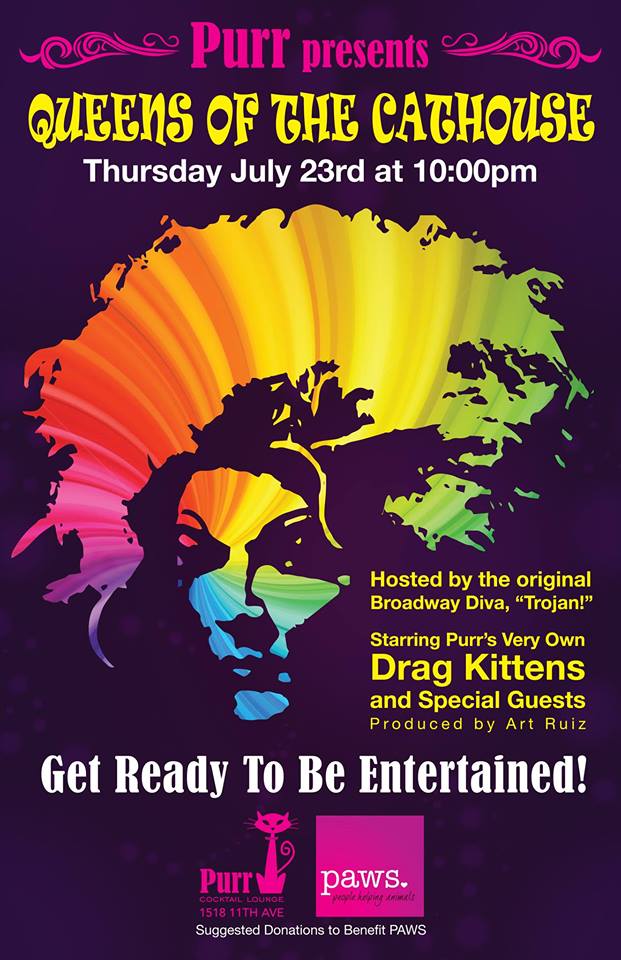 ONE last option for Thursday, July 23, 2015!
The Staff of Purr Lounge is jumping into drag tonight to benefit PAWS!
Come watch the staff of PURR perform in their best drag!

PURR Presents QUEENS OF THE CAT HOUSE!
Hosted by the original Broadway Diva, TROJAN!

Queens of the Cathouse stars PURR's very own Drag Kittens, with Special Guests.

There will be great prizes to win, with proceeds to benefit PAWS.

PAWS is a champion for animals—rehabilitating injured and orphaned wildlife, sheltering and adopting homeless cats and dogs, and educating people to make a better world for animals and people.
www.paws.org
We all love the kitties, puppies, and other assorted wildlife! Drop by and help out!!!!
Also: jocks in drag….FUN!!!!!
(Visited 1 times, 1 visits today)
As the Editorial Director/Co-Owner, Michael Strangeways writes, edits and does about a million other jobs for Seattle Gay Scene, Puget Sound's most visited LGBTQ news, arts and entertainment website now celebrating its 14th year as a media outlet. A semi-proud Midwesterner by birth, he's lived in Seattle since 2000. He's also a film producer who would like you to check out the Jinkx Monsoon documentary, "Drag Becomes Him" now available on Amazon.com. In his spare time, he gets slightly obsessive about his love for old movies, challenging theater, "otters", vodka, chocolate, "I,Claudius", Lizzie Borden, real books made out of paper, disaster films, show tunes, Weimar era Germany, flea markets, pop surrealistic art, the sex lives of Hollywood actors both living and dead, kitties, chicken fried steak, haute couture and David Bowie. But, not necessarily in that order.
Related Posts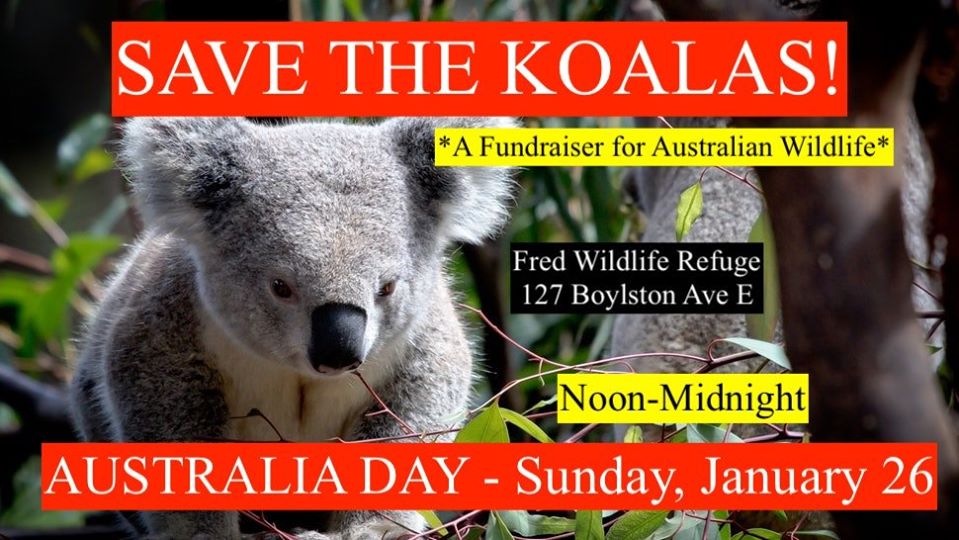 *Dragolicious • *Resist. Protest. Obstruct. Inform. • *SGS Recommends • Animal Lovers • Arts & Entertainment • Bar/Pub Crawl • Bars & Nightclubs • Capitol Hill News • Community • Community Events • DJ Dance Party • Drag • Drag O'Tainment • Fundraisers • Living • Nature • News • Nightlife • Outdoors • Queer - Australia / NZ • Seattle Drag • Seattle Lesbian Scene • Seattle News • Seattle Transgender Scene • We Love The Nightlife • Where To Go In Seattle
The images from Australia have horrified all of us over
...