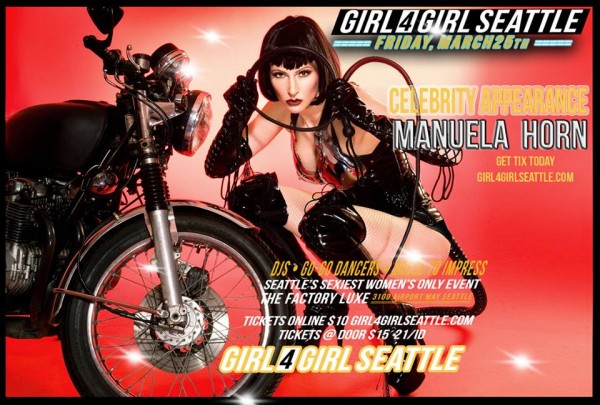 …And ready to take you out, turn you up, and taste your treats!
Friday, March 25, get your best-dressed self over to Factory Luxe in the Rainier Brewery building (Georgetown) for a night of dirty dancing, go-go girls, and music fit for flirting.
Theme for the evening is "Lust…A Night of Desire." Time for your most dashing suit or your sexiest corset. Toys and cuffs should be left at home, but cleavage and class is encouraged.
PLUS, Manuela Horn, "The Austrian Amazon" as seen on "America's Got Talent" and frequently at Teatro ZinZanni here in Seattle, will make a special guest appearance! Manuela is a "yodeling, dancing, acting comedic force of nature…"
Ten dollars online gets you an advance ticket. At the door, the price goes to $15, so hurry up and buy! Cash only once you get there. No worries, you'll need it for the go-go girls anyway. Believe me, even if you don't get a number, you'll have fun just staring at them all night.
As always, G4G is trans-inclusive and is a women's only event. If you don't feel like the 'Rose that night or can't get to Hot Flash this month, this is the place to go! Stay tuned for "Too Damn Glam 1920s" on April 15th.
I'll see your hungover gorgeous selves at Whole Foods the next day. *wink* Enjoy!
Tags: bars, dancing, dapper, date night, dress up, Factory Luxe, fetish, flirt, Girl4Girl, Girl4Girl Seattle, go-go girls, lesbian, lust, Manuela Horn, Nightlife, queer women, singles, transwomen, women