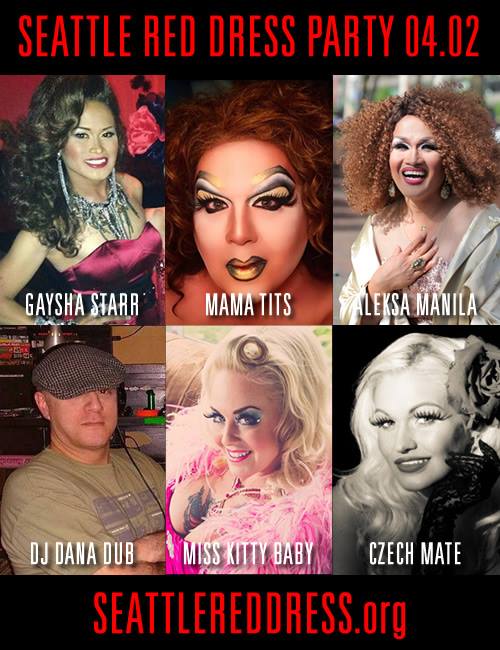 Oh…wait. That was Red LIGHT!
Regardless, it's time to put on the RED because it's Seattle Red Dress Party Weekend! You still have time to grab tickets (they'll have them at the door, too…it's really hard to actually sell out a huge venue like Fremont Studios…you can always squeeze in a couple more with a little lube and a strong shove in the right direction….) BUT, if you grab them BEFORE the day of, you save some $$$$$!!! So go HERE to snag them!
AND, if you're struggling to find a Red Dress to fit your frame, then we suggest checking out Goodwill and Value Village and for those really larger framed, then go to Two Big Blondes Consignment Shop in the Central District at 2501 South Jackson Street. They are HELLA nice/queer friendly and LOVE to help folks find the right outfit to wear!
AND, not only do they have "RuPaul's Drag Race" star Derrick Barry on hand as a headliner, but a whole bevvy of local stars are on tap as official hostesses/hosts including Miss Kitty Baby, Aleksa Manila, Mama Tits (fresh off the plane from Puerto Vallarta…) and in her grand return to Seattle, Miss Gaysha Starr celebrates her homecoming (after a couple years serving time in the Gucci tar pits in Aspen and SFO…)
All the poo:
The Seattle Red Dress Party is coming April 2 to Fremont Studios! After a year in hiatus, Red Dress returns with a new producer, non-profit PrideFest, and the party is back with a vengeance. 100% of net proceeds go to support HIV/AIDS charities and building a stronger community through PrideFest.

TALENT
Derrick Barry
Ultra Nate
DJ Tina T (Las Vegas)
DJ Bret Law (Seattle)
DJ Dana Dub (Seattle Eagle, The Cuff)

VIP HOSTS
Skyscraper diva extraordinaire….Mama Tits
Longtime Red Dress hostess…Gaysha Starr
PrideFest main stage regular…Aleksa Manila
Femme To Be Reckoned With….Miss Kitty Baby
Seattle's Bohemian Beauty…Czech Mate

ATTITUDE OPTIONAL, RED DRESS REQUIRED

21+ ONLY

WHY DO WE WEAR A RED DRESS?
The color red is commonly accepted as the international symbol of AIDS awareness, the Seattle Red Dress Party builds on that idea that all guests, despite age, gender or sexual orientation, attend the event wearing a red dress. The visual of all attendees donning red dresses whether male, female, gay, straight, old or young, serves as a powerful symbol of solidarity of people living with HIV/AIDS and also reminds us that we are all here to make a difference and support a common cause.

NORTHWEST TRADITION
The Seattle Red Dress Party is a Pacific Northwest community tradition, one that draws crowds as diverse as Seattle itself. It's a special evening, one during which people of all backgrounds come together for a celebration full of dancing and music, spirits and laughter. This light-hearted fun provides the background for the real purpose of Red Dress, the opportunity for supporters from all walks of life to unify behind the common goal of ending the HIV/AIDS epidemic and building a stronger community. As an annual symbol of hope and solidarity, with every last attendee donning the signature-colored dress, the Seattle Red Dress Party is a true testament to the power of our community coming together to affect positive change.

HISTORY & FUTURE
From 2008-2014, Seattle's Red Dress Party was produced by a Steering Committee of devoted volunteers, including founder Sam Galano, designer John Fulton, and small business owner Jason Brotman. In 2014, they announced that they were retiring the party, and in 2015 there was no Red Dress Party in Seattle. In 2016, the Steering Committee decided to hand the event off to a new generation of producers, not a decision the group took lightly. They hand-picked a new organization that was capable of respecting the history of the event, maintaining the mission of Red Dress, and capable of putting on such a big event. Seattle Red Dress Party is now being produced by the nation's largest free Pride festival producers, local 501c3 non-profit PrideFest. The Seattle Red Dress Party remains dedicated to raising funds and awareness for the HIV/AIDS movement and to building a strong, unified LGBT and allied community. With the color red as an international symbol of HIV/AIDS awareness, we require all attendees regardless of age, gender or sexual orientation to attend the event adorned in a red dress.

While the exact origins of The Red Dress Party are unknown Seattle's event is fashioned after our sister city to the south, Portland. The Portland event started out as a small band of committed supporters has grown to a grand scale that today welcomes more than 2,000 attendees each year. Now in its fifth year in Seattle, Red Dress continues to grow by leaps and bounds. The red dress network of parties now includes Chicago and Sacramento.
(Visited 1 times, 1 visits today)