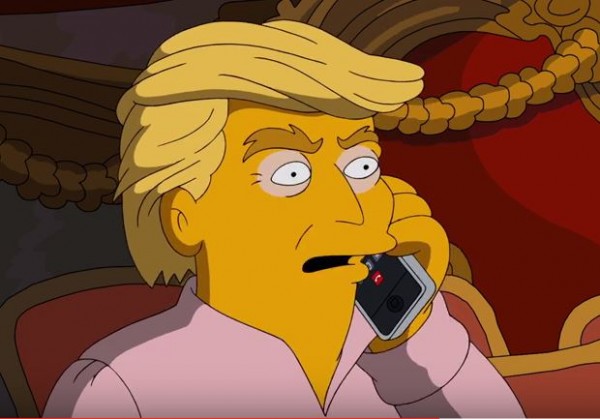 Fox's looooooooooong running animated sitcom The Simpsons has never shied away from satirizing…well, pretty anything and everything and they've always enjoyed slyly zapping politics and politicians. It's been on the air for a VERY long time; the original shorts debuted on The Tracey Ullman Show way back in 1987…during the waning days of the Reagan Administration. Ronnie's been parodied on The Simpsons but they really had fun with George H.W. Bush; they even featured George and Barbara Bush moving in across the street from The Simpsons and getting involved in a vicious feud with Homer & Bart. Over the years, the writing staff at The Simpsons has also featured barbs at Bill Clinton (though not nearly as vicious as the darts thrown by the bad boys over at South Park who also enjoyed tearing apart Al Gore who got far more kindly treatment over at The Simpsons' co-creator Matt Groening's OTHER Fox animated sitcom, Futurama where Gore frequently voice guested….largely due to the fact one of his daughters was a staff writer on the show…)
Now The Simpsons team has taken aim at the 2016 presidential election with a new promo that features both Democratic nominee Hillary Clinton (with a cameo from her hubby and former president, Bill Clinton) and Republican nominee Donald Trump. It's using the old trope, "It's 3 am in the White House and there's an international crisis…WHO DO YOU WANT AT THE HELM??!!??"
And, while Hillary and Bill have their moment, the real target is The Donald himself. Let's just say he doesn't arise to the occasion…though this sketch does give us insight into what it takes for Donald Trump to "pull himself together" for his public appearances.
Despite the fact that The Simpsons airs on the Fox television network and Fox is a division of News Corp which is controlled by arch conservative Rupert Murdoch, it's apparent that the show isn't forbidden to go after other conservative figures. Murdoch is apparently a fan of the show and has voice guested on it and The Simpsons have frequently tweaked their own network as well as Murdoch himself.
Now, start cuing the cry from Trump supporters demanding a boycott of The Simpsons.
Three, two, one……
Check it out:
Tags: 2016 Presidential Election, Donald Trump, Parody, The Simpsons