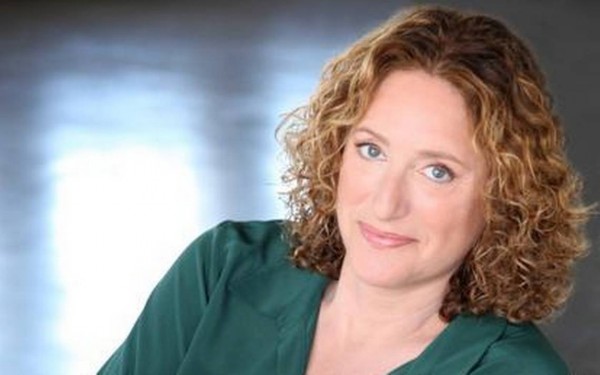 A few tickets still remain for tonight's big comedy show at the Stroum Jewish Community Center on Mercer Island (yes…you now have a reason to actually GO to Mercer Island!!! It's NOT just an island on the I-90 bridge to Factoria!!!) Very Funny Lady JUDY GOLD is the star for tonight's big show which had to be rescheduled from the original booking back in June for Pride Month. Go HERE to snag tix (or, just try your luck at the door) and here's more skinny about the Divine Ms Gold:
"Judy Gold is an Emmy Award-winning actress, comedian, writer of two Off-Broadway hit shows (including "25 Questions for My Jewish Mother"), a lesbian, Jewish mother, and a recent guest on "Celebrity Wife Swap." More recently, she appeared on ""Unbreakable Kimmy Schmidt"" and ""2 Broke Girls."" She was a writer/producer for the "Rosie O'Donnell Show" and is a frequent co-host on "The View." In 2012 she received the Keshet Hachamat Lev Award for GLBT activism in the Jewish community.

Happy Hour starts 7 PM (cash bar): Now serving wine and beer in the J Café."

General Admission: $35
SJCC Members: $30

Presented in Partnership with:
Media Sponsor: KUOW NPR 94.9 FM – (http://kuow.org/)
Community Partners: GSBA – Greater Seattle Business Association (http://thegsba.org/)
Twist: Seattle Queer Film Festival (http://www.threedollarbillcinema.org/programs/TWIST)
Stroum Jewish Community Center is located at 3801 East Mercer Way, Mercer Island, WA. If you're not familiar with Mercer Island, use a location app to help you get there…we don't want you wandering lost in the wilderness for 40 years trying to find your way around Mercer Island…
Also: Please note this is JUDY GOLD…not, DANA GOLDBERG who's also a funny Jewish lesbian comedian from New York City.
They need to pair up and do a tour together.
"SOLID GOLD"
BAHDABUMP!!!
Oh, and coming up on December 1, 2016…cutie pie comedian GARY GULMAN makes the trek to Mercer Island…we likes his meaty workman's hands. Oh, and he's funny, too.
"You've seen him on Inside Amy Schumer, The Tonight Show, Conan, and any one of four one-hour stand-up specials on Showtime, Comedy Central or Netflix. Now comedian Gary Gulman brings his A-List stand-up to the J. His comedy special "In This Economy?" was named one of the 25 best streaming stand-up shows, along with Louis C.K., Lewis Black, and Kevin Hart. His most recent special, ""It's About Time"" premiered in May to critical acclaim. Gulman's style is meticulously crafted, yet playful; absurd with an approachable everyman quality.

Happy Hour (cash bar) starts at 7 PM: Now serving wine and beer in the J Café. "

Cost: $25 General Admission $20 SJCC Members
(Visited 1 times, 1 visits today)