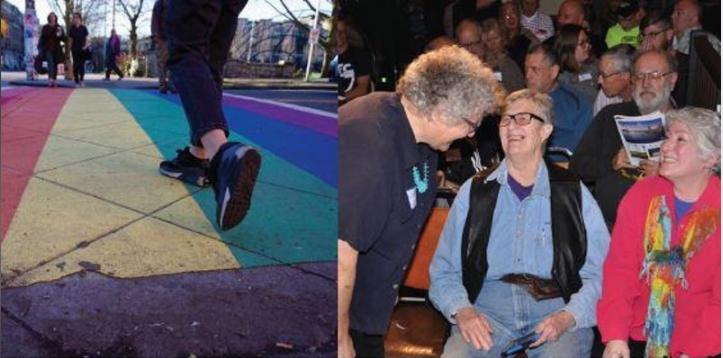 We've made it clear we're excited about and fully support Capitol Hill Housing's 14th & Union project to provide affordable senior housing for Seattle's LGBTQ population. 
You can also join in on this very important dialogue by participating in this upcoming community forum scheduled for Tuesday, December 19th at The Summit, 420 East Pike Street. Community members will have a chance to have a say in the design and planning process.
This IS important for our community….after all, we'll all be old one day.
Hopefully.
More info:
Share your ideas for Seattle's first LGBTQ-affirming affordable senior housing development to be built at the corner of Union St. and 14th Ave. Join Capitol Hill Housing, Environmental Works, and our community partners for an evening to identify common goals and a shared vision for the project. Food and drink will be provided. All are welcome.

RSVP isn't required, but it helps us get an accurate headcount so we can have the right amount of food and chairs.

Discussion during the evening will help inform designs for a planned mixed-use building to be built by the neighborhood community development organization Capitol Hill Housing. Preliminary plans call for up to 66 affordable homes for low-income seniors 55 years or older and just under four thousand square feet of first-floor retail space. Anyone who meets age and income requirements will be eligible to live in the building.

We want to hear from you about ways design, commercial tenants, and other partnerships can be leveraged in this project to support LGBTQ elders in the community.

What: Community visioning workshop for Seattle's first LGBTQ-affirming affordable senior housing

When: Tuesday, December 19th, 5:30 PM – 7:30 PM

Where: The Summit at 420 E Pike Street, Seattle, WA 98122

What to expect: Food and drink and a facilitated discussion about a shared vision and community goals for an affordable housing development at Union St. and 14th that aims to address needs of LGBTQ elders in the community.

Environmental Works, our architects, will be leading a participatory process where they hope to hear from everyone attending about ideas for the new building, especially community gathering areas. The hope is to identify community goals and a shared vision for the project as well as program ideas for the retail spaces. They'll use this feedback as they begin the design process.

Learn more:
(Visited 1 times, 1 visits today)