Apparently we're on their caca list because "Capitol Hill Pride" failed to send us their press release announcing their intent to stage a Pride event on Capitol Hill/Broadway, Seattle's traditional LGBTQ neighborhood on Saturday, June 23, 2018. 
We probably need to bring you up to speed….again. (Or, read our coverage from last year's scandal.) Capitol Hill Pride under the leadership of Charlette LeFevre, who owned the "Northwest Museum of Legends and Lore" which briefly operated on the north end of Broadway a few years back before moving to the SoDo neighborhood, co-created "Capitol Hill Pride" after Seattle's official Pride events moved downtown in 2006 and Broadway business owners pitched a fit over lost revenue due to the parade leaving the neighborhood. The then operating Seattle Lesbian & Gay Center tried to stage a disastrous Capitol Hill based Pride event called "Queerfest" the following year, but the expense ended up contributing to the demise of that center. LeFevre and other Capitol Hill Business leaders, including Seattle Gay News publisher George Bakan then created "Capitol Hill Pride" in 2008 to focus Seattle LGBTQ Pride events on the Hill on the Saturday of Pride Weekend, the last weekend in June each year. The event, which was basically a street fair on Broadway, was successful enough to continue over the next decade despite being oddly programmed and produced.
When Seattle PrideFest, the producers of the official Seattle LGBTQ Pride festival held at Seattle Center after the parade on Pride Sunday began producing events in Capitol Hill's Cal Anderson Park on the same Saturday as Capital Hill Pride events a block away on Broadway, the main business street for Capitol Hill, a rivalry developed between the two groups. That rivalry reached a fever pitch last year after Charlette LeFevre and her group announced they would stage a sister march/protest to the national LGBTQ protest march to be held in Washington D.C. on June 10th. When PrideFest's Executive Director Egan Orion announced that his group was also staging a march for that same day with the backing of most of the city's other non-profit LGBTQ organizations, LeFevre responded by announcing that Capitol Hill Pride would move their traditional last Saturday of the month festival on Broadway TO the weekend of June 10th which immediately caused confusion and created anger from businesses who had already paid deposits for the Saturday June 24th original event.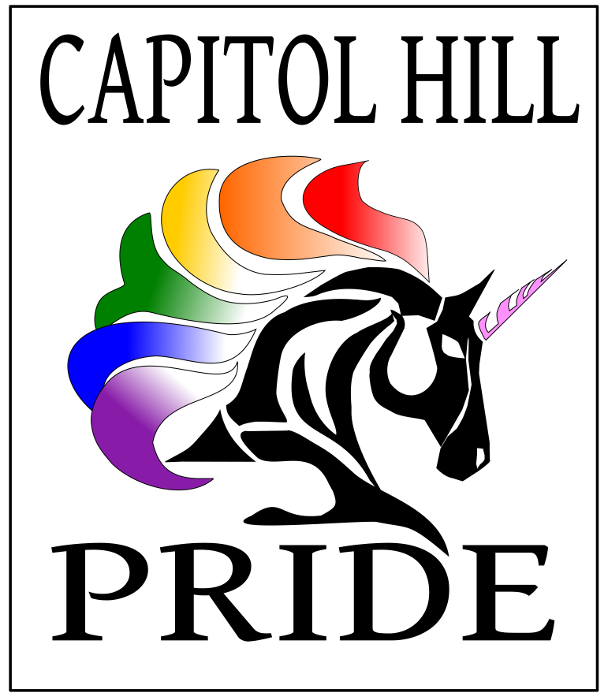 After that outcry, LeFevre's group then announced that they would hold events on BOTH weekends, despite not having the events properly approved by the City of Seattle. Due to the disorganization and other complications including an injury sustained by a community member, the city eventually denied the group permitting for a festival after the June 10th march and for any events on Pride weekend. Seattle PrideFest then took over the traditional Broadway street festival which was successfully produced last year to great acclaim.
While many thought this would be the end of Charlette LeFevre's leadership of Capitol Hill Pride and the end of that group producing events, this week's announcement makes clear that she intends to proceed with plans to retake the production of the Pride Saturday Broadway/Capitol Hill festival.
Here's the press release from Capitol Hill Pride. Note how they seem to blame former Mayor Ed Murray for "favoring other Pride events" as well as the line about "decreased attendance".
Capitol Hill Pride is proud to announce itself as a new non-profit organization and Trademark name established by the organizers of The Capitol Hill Pride Festival and a Board of Directors which is looking forward to its 10th year on Broadway.

Capitol Hill Pride has just submitted to the City of Seattle Special Events an application for Sat. June 23, 2018 the day long street festival and march for Pride weekend and is currently scheduling to meet with Seattle's new Mayor Jenny Durkan.

The Directors are encouraged that this year's permitting will go smoother as the last two years saw permitting denial for a second day and severe restrictions which resulted in a decreased attendance at the 2017 festival under former Mayor Ed Murray favoring other Pride events during his re-election campaign.

The Capitol Hill Pride Festival has grown to become the Northwest's largest Pride street festival since 2009 and Capitol Hill's largest event since 2013. The Directors are dedicated to promoting local organizations and businesses in what is recognized as a Constitutionally protected annual event for Pride weekend.

The street festival is planned for 2018 for Sat. June 23rd from 10am to 10pm on Capitol Hill.

The Capitol Hill Pride March is planned for 10am on Sat. June 23rd from Seattle Central to the main stage on Broadway and Harrison.

Development on events, registration and stage schedule will be announced on the website.

The new Capitol Hill Pride logo is a black/white unicorn reflecting the colors of the Pride flag including pink representing the large diversity of the community.

Capitol Hill Pride is confident in the many restaurants, businesses non-profits and artists in promoting the LGBTQAI cause whether it's through their art, business or personal expression and support of the community all year long.

For more information visit:
http://www.capitolhillpridefestival.info/

Developing Board
Charlette LeFevre
Philip Lipson
David Kennedy
Laura Ingalls Wilder
Bo Odyssey
We've reached out to Seattle PrideFest for a comment and Executive Director Egan Orion responded with this statement:
PrideFest is working with the city, the Broadway BIA, community groups, and local leaders to produce PrideFest Capitol Hill, stretching from Cal Anderson Park all the way to the north end of Broadway. After violating terms of their special event permit at another event last year (resulting in massive disruptions on Broadway and injuries to an elderly lady), Charlette and her team were denied a permit for the Broadway street festival, and PrideFest stepped in to produce a very successful, record-breaking event for the community. The city gives special events permits for annual events to the group that last produced that event. We have every reason to believe we will be granted permits for 2018 for PrideFest Capitol Hill. We look forward to serving the community with the integrity and expertise we're known for with PrideFest at Seattle Center.

We thank Charlette LeFevre and her friends for all their efforts over the years and wish them all the best in their future efforts.

With Pride,

Egan Orion
Executive Director, PrideFest
Where would we be without at least one Seattle LGBTQ Pride "Escandalo" a year?
But, it's only February…
To be continued.
(Visited 9 times, 1 visits today)