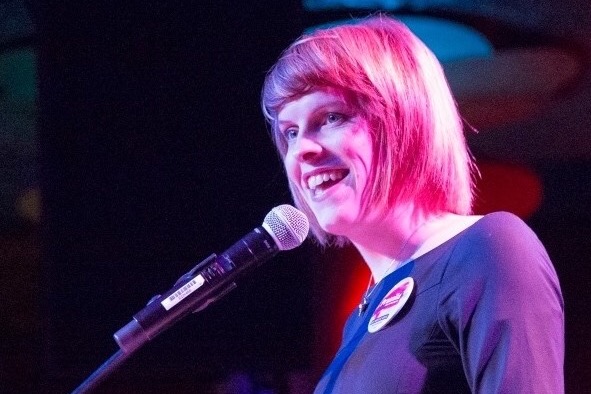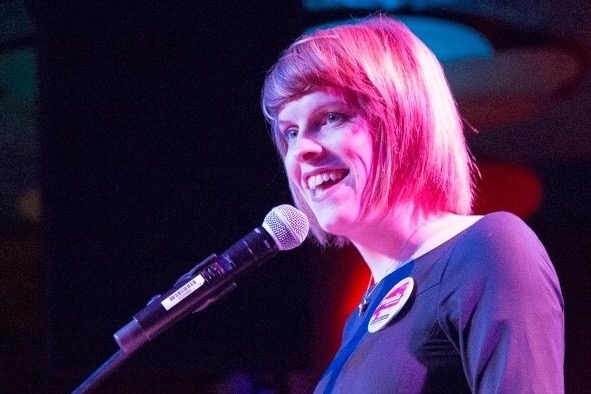 It's been an ongoing battle for several weeks.
Danni Askini, Seattle area transgender activist and a co-founder of the Gender Justice League which produces Seattle's Transgender Pride event every year, is having legal problems with her passport which is preventing her from re-entering the United States after a trip to Sweden. 
Askini had been plagued with threats against her life earlier this summer and frustrated by local law officials refusal to aid her, the activist had decided to take a trip to Sweden, where she has friends and family, to avoid those threats as well as work on writing projects. When she tried to renew her passport, Askini discovered that despite years of trying to improve the passport application process for transgender people, an issue that she has herself worked on, the process for her to renew her own passport quickly devolved into a nightmare. She was able to obtain satisfactory credentials to travel to Sweden, but once in that country discovered she would have serious issues attempting to return to the United States. 
Her frustration with the process led to nationwide coverage on her ordeal, including stories at them and The Advocate which led to nationwide concerns that the Trump Administration was pushing to take away passports from transgender people. Askini quickly stated that her situation was unique; she had been adopted as a child which complicated the process to prove her identity.
Danni Askini also determined she would need expensive legal assistance to obtain the documents needed to enable her to be issued a legal passport as well as some living expenses while she is stuck in her diplomatic limbo in Sweden and a GoFundMe campaign was created. On that campaign's home page, she goes into great detail on the circumstances behind her ordeal.
https://www.them.us/story/trans-women-state-department-passports

SUMMARY: 

I am asking for people's help in raising funds to pay for legal assistance in Washington DC and Seattle to clarify my status with the US State Department, obtain sealed legal documents in the State of Maine,  obtain legal support in Sweden, and help me remain in Sweden longer than intended until the mess with my passport can get figured out.
LONG BACKGROUND: 

Since founding Gender Justice League in 2012 with friends and colleagues – my profile in Seattle's progressive community has grown immensely. I took a key role in combating the state's anti-transgender bathroom bills and ballot measures, have taken on a Mayor accused of sexual abuse, and championed key feminist issues such as reproductive health care access, transition related healthcare, banning reparative therapy, non-binary gender markers, combating hate crimes, and keeping police accountable.   This work has garnered a lot of support – but it has also garnered a lot of negativity, hatred, and targetting.

In May and June 2018 in the run up to Trans Pride Seattle and following increased attention by several articles on the MeToo Movement and a recent bout of muteness following a vocal surgery – I started receiving very specific threats from anonymous email sources via. Gurellia Mail. These threats included photos and personal details that could have only been obtained through stalking and doxxing. For the first time as an activist the threats included details about people close to me such as friends and family – and threats to do harm to those people.

When I began engaging law enforcement, their assessment of the situation was that there were "no leads to go on" and that "there is only on ecybercrimes detective at SPD who can investigate these abuses, and they have a 3 month backlog. They almost only ever work on internet crimes against children."  The recommendation of the FBI and Police?  Hire a private security firm or get a gun and learn how to use it.

Following these threats local fascists group "The Proud Boys" rallied and protested at Trans Pride Seattle – a 10,000 person event that I have run since 2013. The day before Trans Pride – I was also rear ended in a hit and run seriously damaging my car and pushing me off of the road and into a gutter.  The assailants were three young white men with buzzcuts in a green ford pickup truck from Oregon. There was a gun visible in the back of the truck in a gun rack. These men shouted anti-queer, anti-trans, and anti-Jewish epithets out the window. Without the intervention of other drivers – I believethese men would have attempted to harm me further.  The assailants drove off.  When I called Seattle Police, I wastold that since both my vehicle was in working condition and I was insured and uninjured that I could "simply file a police report online".

This lack of ability to secure protection from law enforcement combined with the increased violence and rhetoric from the Alt-Right in the Northwest led me to the decision to leave the country and return to Sweden where I have friends and family three days after the incident I purchased a plane ticket and started letting people know I was leaving.

It was at this point I had to renew my passport as it had recently expired. I attended an appointment Wednesday June 27th – where I completed a renewal for a passport form and requested and paid for both a full 10 year passport and passport card.  When turning in the application I talked to the person receiving it and explained that I was fleeing violence and didn't want to disclose my home address as I am in the State of Washington Confidential Address program. We quickly found a solution and the service was polite and warm.

As has been covered (sometimes not completely accurately), I received a call on Friday June 29th from either a supervisor, manager, or the head of the Seattle Passport office that my passport application was denied.  I was first asked if "You have ever used other names?" To which I truthfully replied with my name at birth and my name during foster care.  I was then asked "Are you transgender?"  I truthfully replied "Yes".

I was then asked to produce new documentation proving that I was

1. A US Citizen by providing an "Original birth certificate signed by a physician or a sworn affidavit of my birth in the United States by that physician."

2. Any previous names and all name changes including court transcripts, orders, or declarations and all associated files and materials.

3. A certification from my doctor that I had undergone and "completed"gender transition.

At that time I explained to the Seattle Passport Office that I was aware of the State Department's policy for transgender people's passports as I consulted with the Clinton State Department on the drafting.  That I was not requesting to change my name or gender on my passport, and thus didn't believe I needed to produce these documents.

At this point the person on the phone became angry, frustrated, and rude: She stated "We need to document and verify every person's legal identity, their claim to citizenship, and that they have undergone the surgery."

I then explained that my name changes and legal gender marker change happened while I was a minor and during child welfare proceedings as I entered and exited foster care in 1998 in Maine – on the other side of the country. To obtain the records she was requesting I would need to travel from Seattle to Maine to appear before a judge to unseal sensitive child welfare records that are not generally available to the public. I reitterated that I had produced a birth certificate from the State of Maine that included my full legal name, my gender, my date of birth, and my place of birth and that I believed I had sufficiently established both my identity (by providing my previous passport and driver's license).

She came back with "Well we have no evidence related to previous names or your sex change, so we need that or you don't get a passport. You can go to Maine to get it and if a Judge won't unseal it you can get a sworn affidavit to that effect."

I also explained to the State Deparment official that I am a Human Rights Defender fleeing violence and seeking state assistance to travel to Sweden to continue my human rights work in a safe environment. I explained that as a State Department official  she should know that under the UN Convention on the Rights of Human Rights Defenders, of which the USA is a signatory, I had a right to seek and receive state protection – in this case, my passport so I can leave — and that she should simply renew my already legally valid and previously accepted 2007 passport without delay.

At this point, the State Department official told me that:

"Your 2007 passport should never have been issued and was never legally valid because you fraudulantly obtained it. I will send you the list of documents we need by email. Ok. Good bye."

And then hung up the phone.
You can read the rest of Danni's story here and help contribute to her GoFundMe campaign to allow her to return home.
(Visited 8 times, 1 visits today)