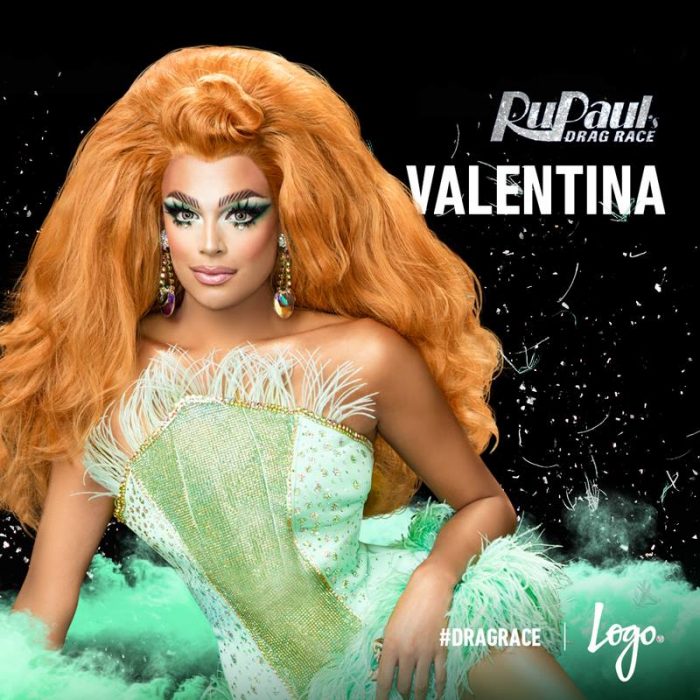 The news is out that Fox's live production of RENT, the beloved Pulitzer Prize winning musical based on  Puccini's opera La Bohème has announced the cast for the show set to air on January 27, 2019 and it includes a controversial drag diva. Season Nine RuPaul's Drag Race star VALENTINA has been cast as "Angel" one of several LGBTQ characters in the musical set in NYC's East Village in the early 90s as AIDS ravaged many in the community.
Also cast: Vanessa Hudgens, Jordan Fisher and Brandon Victor Dixon. 
Valentina, aka 27 year old James Andrew Leyva, is best known for their polarizing performance on RPDR in Season 9 which won her many fans but also many detractors. The drag star had performed well in the series and was expected to finish in the finals but was eliminated for not knowing lyrics during the elimination lip sync performance. She later won the fan voted on title of "Miss Congeniality" for her season.
Since her appearance on the RPDR in 2017 the star has successfully toured around the world but has also earned a rumored reputation of being difficult to work with with a track record of cancelling shows at the last minute and diva like behavior behind the scenes.
Getting a gig on a network TV show is a big deal…and, especially a pivotal role like "Angel" which is a role that tends to win actors who play Angel, accolades and awards. Will Valentina have the discipline to pull it off?
We'll see…if not, they can always grab Jinkx Monsoon to play it…or, can they?  The Seattle queen played the role at the 5th Avenue Theatre six years to good/mixed reviews with some grumbling that Jinkx was cast in a role that actually calls for an actor of Latinx or Afro-Latinx heritage. Valentina is Mexican-American so in that regard, she is a better choice. Hopefully, she has the discipline and acting chops to pull off the role.
Set to air January 27, 2019, Rent will feature Kiersey Clemons (Hearts Beat Loud) as Joanne, Dixon (Hamilton, Jesus Christ Superstar Live in Concert) as Tom Collins, Fisher (Hamilton) as Mark, and Hudgens (High School Musical, Gigi, Grease: Live) as Maureen, with Brennin Hunt (Nashville) as Roger, Mario (Empire) as Benjamin, recording artist Tinashe (Dancing With the Stars) as Mimi, and Valentina as Angel. Tony nominee Keala Settle will also be part of the production, singing the solo from "Seasons of Love."

After the success of its live musicals Grease! Live and A Christmas Story, Fox now brings the Pulitzer Prize-winning Jonathan Larson musical to television audiences. As previously reported, Tony Award-nominated director Michael Greif, who staged the original Rent, will oversee the stage direction while Alex Rudzinski (Jesus Christ Superstar Live in Concert, Grease: Live) is the live television director. Marc Platt (Grease: Live, La La Land, Wicked) returns to the network to executive produce alongside Adam Siegel, Julie Larson (sister of the late composer), and her father Al, as well as Vince Totino, Scott Hemming, and Marla Levin of Revolution Studios.

Bernard Telsey, who cast the original production, is also responsible for casting the Fox adaptation.

Schedule of Upcoming Live Theatre Broadcasts in Movie Theatres and on Television

The 1996 rock musical, loosely inspired by Puccini's La Bohème, launched the careers of several stage and screen favorites, including Idina Menzel, Anthony Rapp, Adam Pascal, Taye Diggs, Jesse L. Martin, and Daphne Rubin-Vega.
(Visited 1 times, 1 visits today)