November 5, 2018

•
by
Michael Strangeways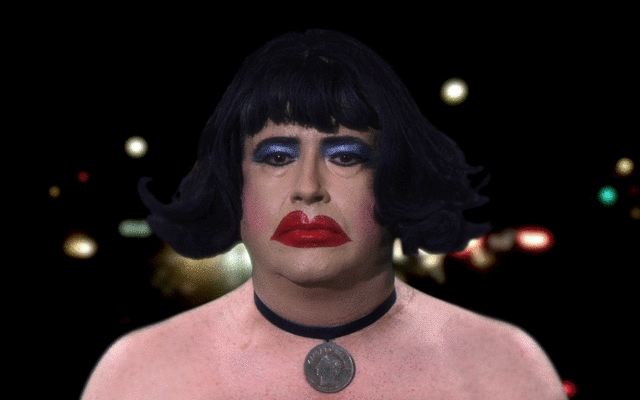 Now our very own Dina Martina has joined the rank of music video icons like Bumble Bee Girl in the Blind Melon video, Ola Ray in "Thriller" and the cow in "Sweet Dreams Are Made of This". Ms Martina is the star of the new video from former Dinosaur Jr. guitarist J Mascis that is the first single off his new SubPop album to be released this coming Friday, November 9th. It's the title track from Elastic Days and features Dina lip syncing her little heart out, while wearing different fetching outfits/wig combos.
Check out the video and see J Mascis on tour starting this weekend…more info below but he'll kick off in Vancouver BC this Wednesday, Nov 7th then head down to Portland on Thursday and back here in Seattle on Friday, the 7th for a gig at The Tractor in Ballard.
Drag icon Dina Martina appears in numerous guises, lip-synching against the moving background of blurry night time city streets in the new J Mascis video for the title track from Elastic Days, his forthcoming new album. Co-directors Shane Wahlund & Michael Anderson capture Dina's uncannily contemplative and slightly melancholic mood, and her performance serves as the perfect visual for the song.

J had this to say of the video, "I've been a big Dina Martina fan for a long time. I've seen her perform many times over the years. I'm glad that I got her to do this video before she becomes an untouchable superstar. I am amazed at how the video came out, I'm so psyched."

Pre-orders for Elastic Days through megamart.subpop.com and select independent retailers will receive the limited Loser Edition on clear vinyl with purple swirl (while supplies last). There will also be a new t-shirt design available.

J Mascis' North American tour dates for 2018 in support of Elastic Days begin on November 7th in Vancouver, BC at The Imperial and wrap up on December 15 in Portland, ME at Port City Music Hall. Then in early 2019, he'll embark on UK tour which kicks off January 16th in Oxford at O2 Academy and ends on January 25th in Glasgow at St. Lukes.

Nov. 07 – Vancouver, BC – Imperial
Nov. 08 – Portland, OR – Aladdin Theater
Nov. 09 – Seattle, WA – Tractor
Nov. 10 – Bellingham, WA – Wild Buffalo
Nov. 14 – San Francisco, CA – Slim's
Nov. 15 – San Diego, CA – Soda Bar
Nov. 16 – Los Angeles, CA – Lodge Room
Nov. 17 – Denver, CO – Ophelia's Electric Soapbox
Nov. 18 – Fort Collins, CO – Washington's
Nov. 20 – Chicago, IL – City Winery*
Nov. 21 – Chicago, IL – City Winery*
Nov. 27 – Atlanta, GA – City Winery*
Nov. 28 – Nashville, TN – City Winery*
Nov. 29 – Louisville, KY – Zanzabar*
Nov. 30 – Detroit, MI – El Club*
Dec. 01 – Toronto, ON – Great Hall*
Dec. 04 – Philadelphia, PA – World Cafe*
Dec. 05 – Washington, DC – City Winery*
Dec. 07 – Brooklyn, NY – Rough Trade*
Dec. 08 – New York, NY – Public Arts*
Dec. 09 – Hamden, CT – Space Ballroom*
Dec. 12 – Providence, RI – The Met*
Dec. 13 – Boston, MA – The Sinclair*
Dec. 14 – Northampton, MA – The Academy of Music*
Dec. 15 – Portland, ME – Port City Music Hall*
Jan. 16 – Oxford, UK – O2 Academy
Jan. 17 – Bristol, UK – Thekla
Jan. 18 – Brighton, UK – Concorde 2
Jan. 19 – London, UK – Islington Assembly Hall
Jan. 20 – Nottingham, UK – Rescue Rooms
Jan. 22 – Liverpool, UK – Arts Club
Jan. 23 – Manchester, UK – Gorilla
Jan. 24 – Leeds, UK – Belgrave Music Hall
Jan. 25 – Glasgow, UK – St. Lukes
* w/ Luluc
(Visited 1 times, 1 visits today)
As the Editorial Director/Co-Owner, Michael Strangeways writes, edits and does about a million other jobs for Seattle Gay Scene, Puget Sound's most visited LGBTQ news, arts and entertainment website now celebrating its 14th year as a media outlet. A semi-proud Midwesterner by birth, he's lived in Seattle since 2000. He's also a film producer who would like you to check out the Jinkx Monsoon documentary, "Drag Becomes Him" now available on Amazon.com. In his spare time, he gets slightly obsessive about his love for old movies, challenging theater, "otters", vodka, chocolate, "I,Claudius", Lizzie Borden, real books made out of paper, disaster films, show tunes, Weimar era Germany, flea markets, pop surrealistic art, the sex lives of Hollywood actors both living and dead, kitties, chicken fried steak, haute couture and David Bowie. But, not necessarily in that order.
Related Posts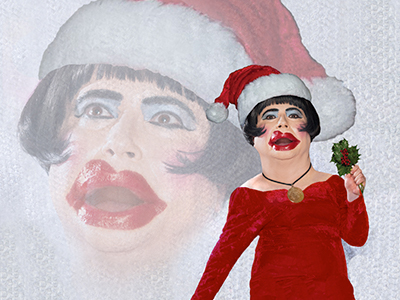 *Dragolicious • *Seattle Theaterland • *SGS Recommends • Arts & Entertainment • BenDeLaCreme Fan Appreciation Society • Cabaret • Christmas/Winter Holiday Events • Comedy • Drag • Drag O'Tainment • Jinkx Monsoon Fan Appreciation Society • Mark Your Calendars • Stage • Streaming • Stuff to Do • Weekend Calendar
Some of us are still Nervous Nellies when it comes
...