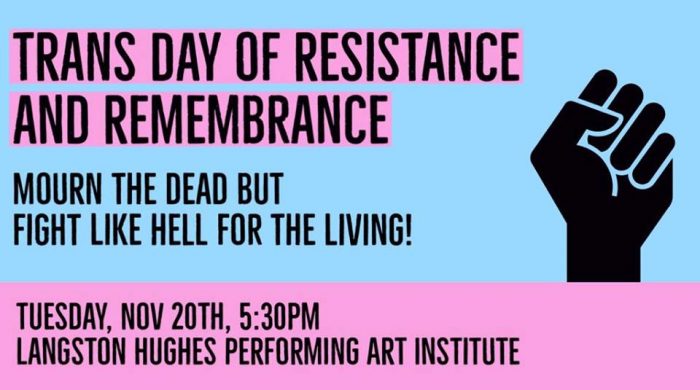 Tuesday, November 20th is Transgender Day Of Remembrance for 2018 and there are a number of events where the lost lives of transgender community members will be honored and remembered. 
The Sisters Of The Mother House Of Washington, Seattle Central College, and Spectrum Club of SCC have teamed up for an event at Seattle Central College on Capitol Hill from 5:30pm to 7:30pm. From the FB invite: 
We will be holding a candlelight vigil to read the names of those who've lost their lives to anti-trans hate crimes and violence. Due to fire code restrictions, the candlelighting portion of the ceremony will be held on the attached large patio of the space, so please dress appropriately for inclement weather. As an added touch, we will also be releasing wish lanterns in honor of the victims in other countries, to spread our remembrance of them across the city.
PFLAG Pacific Northwest, Seattle Democratic Socialists of America, the Socialist Alternative Party, UAW Local 4121, Seattle Councilmember Kshama Sawant, Mac McGregor and Langston Hughes Performing Arts will host an event from 5:30pm to 9pm at the Langston Hughes space at 104 17th Avenue South (cross street is Yesler) in the Central District. More from the invite:
Trans Day of Resistance and Remembrance
"Mourn the dead, and fight like hell for the living!"

In light of the most recent waves of attacks on trans people, there is a growing urgency within the queer and trans community, as well as the wider left, to develop a strategy to fight back against these vicious attacks. PFLAG, UAW 4121, Seattle Democratic Socialists of America, Socialist Alternative, Councilmember Kshama Sawant's office, and Mac McGregor, community leader and organizer of Trans Day of Remembrance, are coming together to host a very special Trans Day of Resistance and Remembrance. We will have a panel discussion of trans leaders and activists to discuss a strategy to defeat Trump's right-wing agenda and inform folks in the trans and gender non-conforming community about how to best protect themselves and their families against the effects of this proposed policy. This will be followed by the Trans Day of Remembrance ceremony to honor and celebrate those who gave their lives to this struggle. Ryannah Quigley will be joining us as this year's keynote speaker. Join us this Trans Day of Resistance and Remembrance, for we must mourn the dead, but also fight like hell for the living!
Meanwhile, in South King County, there is Transgender Day of Remembrance being presented by Ingersoll Gender Center and U.T.O.P.I.A. at Trinity Community Church, 3807 Reith Rd, Kent, Washington 98032. The event is free but they want attendees to register HERE.
ADDED: There's also the Transgender Day of Remembrance Vigil at David Rodgers Park/Queen Anne Bowl on the north side of Queen Anne, in an event produced by  SPU Haven and Party for Socialism and Liberation- Seattle.
Oddly, Seattle's GENDER JUSTICE LEAGUE doesn't seem to be producing or co-producing a memorial event this year. The group, best known for producing the Transgender Pride event during Seattle Pride Week is currently preparing for their annual Gender Justice Awards on December 6th, a major event and fundraiser for the group.
Here's a reminder why we observe this day:
What is the Transgender Day of Remembrance?

The Transgender Day of Remembrance (TDOR) was started in 1999 by transgender advocate Gwendolyn Ann Smith as a vigil to honor the memory of Rita Hester, a transgender woman who was killed in 1998. The vigil commemorated all the transgender people lost to violence since Rita Hester's death, and began an important tradition that has become the annual Transgender Day of Remembrance.

"The Transgender Day of Remembrance seeks to highlight the losses we face due to anti-transgender bigotry and violence. I am no stranger to the need to fight for our rights, and the right to simply exist is first and foremost. With so many seeking to erase transgender people — sometimes in the most brutal ways possible — it is vitally important that those we lose are remembered, and that we continue to fight for justice."
– Transgender Day of Remembrance founder Gwendolyn Ann Smith
(Visited 1 times, 1 visits today)