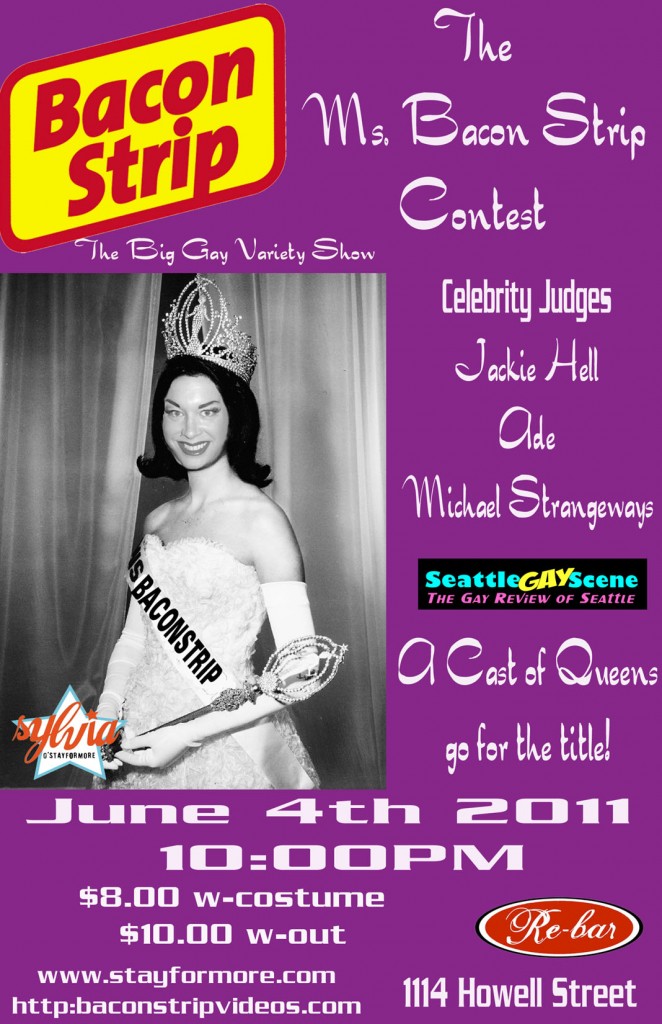 We love plugging things, especially things we are involved with, so just a quick reminder that the Ms Bacon Strip Pageant hosted by Sylvia O'Stayformore is TONIGHT, Saturday June 4 at Re-bar. The doors open at 10pm, right after the Jackie Beat Show and show starts at 10:30pm. Tickets are $8 if you come in appropriate attire (ie: Beauty Pageant) or $10 if you don't and remember Re-bar is CASH ONLY! Here's the rest of the skinny; hope to see you THERE! (Hopefully, I'll be the best judge ever…)
The "Ms Bacon Strip Pageant" is a NON-traditional drag pageant, for the "other" kind of drag queen…Ms Sylvia isn't looking for "Good Fish"…She's looking for TALENT, CHARISMA, CHUTZPAH…and, an appreciation for the BACON STRIP PHILOSOPHY!

Join Sylvia and her regular cast of high talent queens, go-go boys and burlesque folk for a night of pageantry, pomp and pork products…PLUS, CELEBRITY GUEST JUDGES!

The one and only ADE!

The one and only JACKIE HELLl!

The one and only (thank goodness) MICHAEL STRANGEWAYS!

And, it's the first Bacon Strip media sponsored by Seattle Gay Scene!
Yes, we're salivating with salty, porcine glee!
(Visited 1 times, 1 visits today)