WHAT TO DO?!?!? WHERE TO GO!?!?!?
DECISIONS, DECISIONS, DECISIONS!!!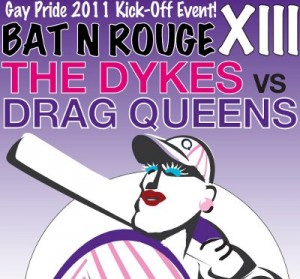 Let's try and break some of it down for you…obviously you need to pop by "Bat N' Rouge XIII" at the Bobby Morris Play Field at Cal Anderson Park to support the big annual fundraiser for Capitol Hill Alano Club...Yes, we know the weather is CRAPPY today, but would it kill you to pop by and donate some money to a VERY worthy cause and check out the sight of seeing drag queens and jocks getting wet and their clothes clinging provocatively to their bodies while playing softball? And, CHAC deserves some love…they've had a rough year and they do amazing work. The fun starts at 5pm…hopefully this drizzle will have ended by then.
For grown up fun, there's "Brush Off" at The Wildrose tonight with LIVE musical performances by some amazing local bands, Noddy and Secret Shoppers with DJ's Timmy Taco and Sharlese. The fun starts at 9pm and the cover is only $5. AND, check out this fun video by Alex Berry of Psychonautic Studios of Secret Shoppers…zexy, zexy fun and great music from an adorable band.
For fans of Lobby Bar and men in Speedos, there's always the zexy option of "Blow Hole" a benefit for Orca Swim Team's Scholarship Fund happening at 9pm. "Swimmers in Speedos, gogo boys, prizes, Danial Webster underwear and swimsuits, drink specials, music by DJ Chris Bresemann, special debut performance by Orca Swim Team patron Drag Queen – Juanita DeFuca!" WHO doesn't love swimmers and swimmer bods…and good causes?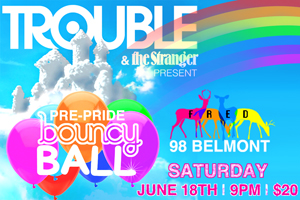 A big, big, star studded event is "Trouble @ Fred Wildlife Refuge's Pre-Pride Bouncy Ball" It's a benefit for the It Gets Better Project and it stars Raja, the season three RuPaul Drag Race winner, DJ Sammy Jo from the Scissor Sisters, Vockah Redu and The Cru from New Orleans, DJ's Fucking in the Streets and Dicso, Visuals by Lux Collective, AND a Sex Advice Booth manned by Mr. Savage Love himself, Dan Savage. All this, PLUS they've added an actual "PINK PRINCESS BOUNCY CASTLE"!!!! Drag queens, bouncy dancers, and Dan Savage all crammed into a Princess Bounce Castle is probably against the law in 42 of the 50 states…enjoy our freedom to bounce in Washington State!! (Please remain dressed while using the Bounce Castle…no bodily fluids or liquids permitted…Offer not good in Kansas.) Tickets still available at Rudy's Barbershop on the Hill and at the door. It's gonna be a HUGE event…be there.
Looking for even more options? Check out the Weekend Calendar!
(Visited 1 times, 1 visits today)