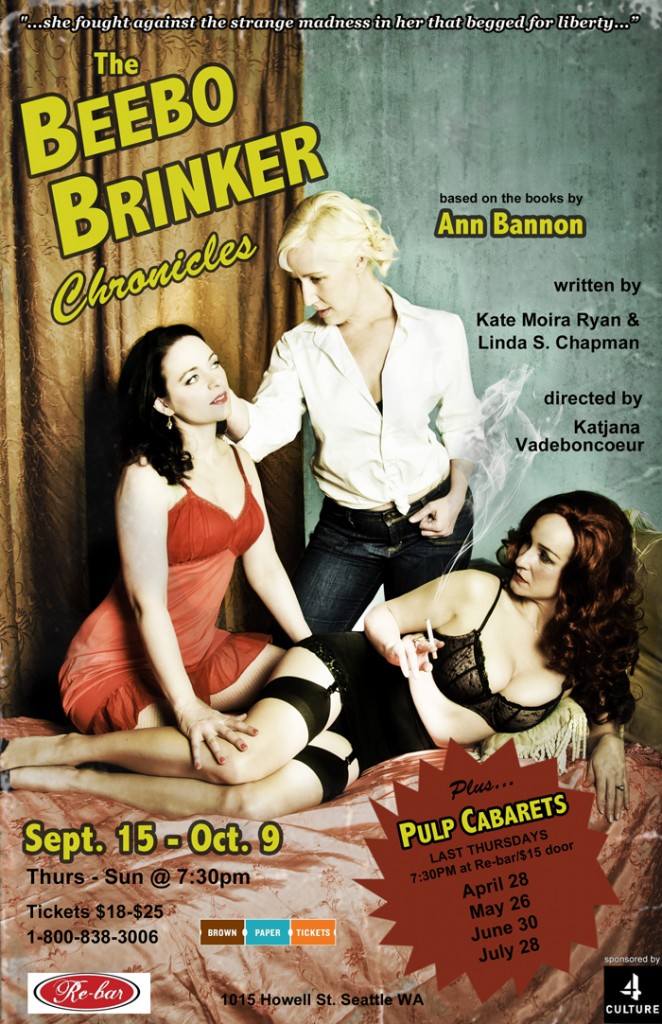 If you're a regular reader of the site, or regular listener to the podcast, you know that Strangeways and I frequently wax geekish on pretty much anything related to literature, theatre, cinema, television, art or fried foods. This week was an extra awesome thrill, because we got to talk to two of the brilliant woman who are responsible for the staged adaptation of Ann Bannon's BEEBO BRINKER CHRONICLES that is opening this Thursday at Re-bar – Donna Stewart and Sasha Summer Cousineau.
We get a whole lotta inside dish about the production, we get into a very deep and erudite conversation about the evolution of the lesbian literary canon that was born throughout the 20th Century which pretty promptly devolved into labia jokes.
As it very well should have. Listen and enjoy!
POSTSCRIPT: Strangeways erroneously announced towards the end of the podcast that Three Dollar Bill Cinema is announcing the line-up for the Seattle Lesbian & Gay Film Festival on Sept 19. That is incorrect. The line-up will be released on September 26!
Tags: Ann Bannon, Donna Stewart, Katjana Vadeboncoeur, Rebar, Sasha Summer Cousineau, The Beebo Brinker Chronicles