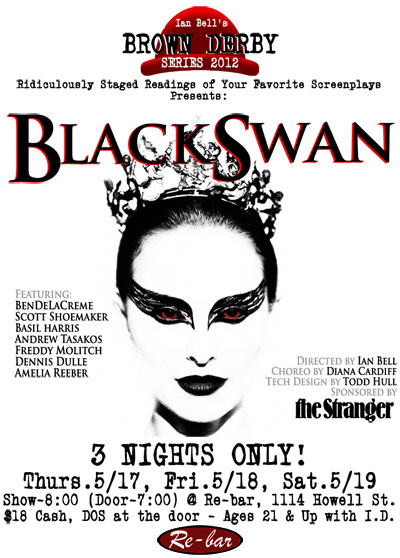 Ian Bell and the Brown Derby Crew are back with another movie parody at Re-bar…this time around, they focus their evil little laser beams on a really recent film, 2010's nutty, psychodrama, "Black Swan"!
BLACK SWAN is the latest installment in the Brown Derby Series 2012 season, dedicated to the theme "It's All In Your Head!" BLACK SWAN is like a mash-up of Carrie and Showgirls with tutus! Directed by Ian Bell, Choreographed by Diana Cardiff. Featuring: Ben DeLaCreme (as Natalie Portman), Scott Shoemaker (as Mila Kunis), Basil Harris (as Vincent Cassel), Andrew Tasakos (as Barbara Hershey), Freddy Molitch (as Winona Ryder), with the ballet of Dennis Dulle (as David), Amelia Reeber (as Galina), and Diana Cardiff (as Veronica). Tech Design by Todd Hull! 3 nights only!
Swoon! The awesome, Ben DeLaCreme as Natalie Portman! Scott Shoemaker in a Tutu!
It starts tonight (Thursday, May 17) with doors open at 7pm/show at 8pm and runs through Saturday night. CASH only at the door and at the bar, and 21+ naturally.
(Visited 1 times, 1 visits today)