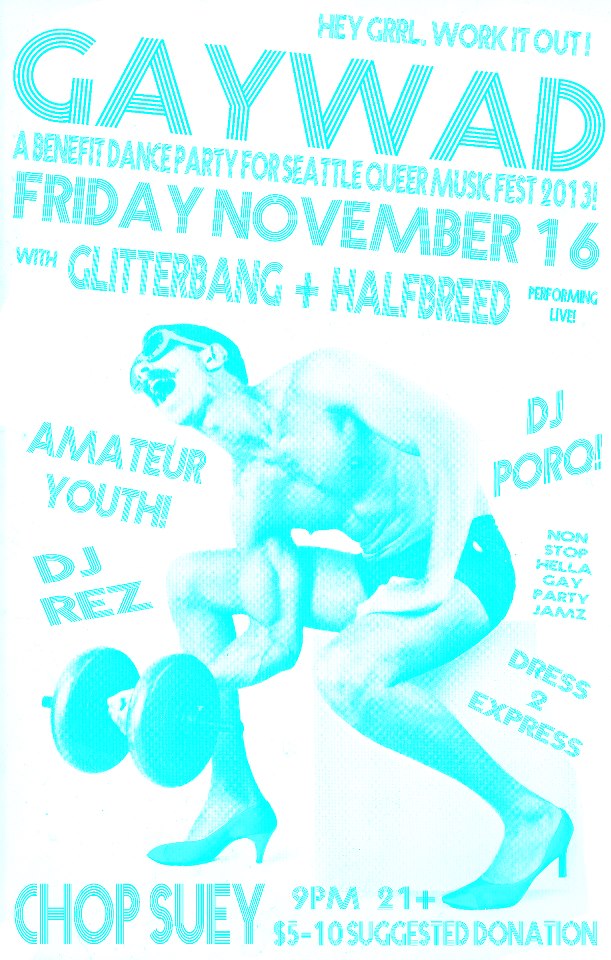 We were very excited a couple years ago when we heard about Portland's Queer Music Festival…and, jealous. Excited because we think it's a terrific idea to showcase LGBTQ live music that is created and performed by queer artists and allies. And, we were jealous because the cool qweers of Portland came up with it first, and Seattle doesn't have anything comparable despite the fact we have a large number of queer musicians from all genres of music…Perfume Genius, Noddy, Secret Shoppers, Glitterbang, Cadet, Amateur Youth, 18 Individual Eyes, The Break Up, ONONOS, The Love Markets, Jackie Hell, Honey Bucket and so many others, are all amazing local performers that deserve to be seen and heard, not to mention all the other terrific artists from the Pacific Northwest, the West Coast and nationally that are all part of the growing wave of Queercore music. Gay music has moved beyond drag queens singing show tunes and lesbian folk singers (and, don't get us wrong…they can be awesome performers as well!)
Since the Portland Queer Music Festival started in 2011, we've been hoping and hinting to everyone we know: "Gee, it sure would be sweet if Seattle did something like this!" and, "SGS would LOVE to help promote and help this get off the ground!" and happily, some other like minded folks with far better music credentials than ourselves have been thinking the same thing…Two of our favorite local music gurus, the multi-hyphenate Marcus Wilson (Pony manager/promoter/producer/dj/performer) and Chop Suey booker Jodi Ecklund are both determined to make a "Seattle Queer Music Festival" a reality in 2013. And, if anyone can pull this off, it's these two.
But, music festivals cost MONEY, even grassroots/DIY ones, so Marcus and Jodi are kicking things off with a party/fundraiser at Chop Suey this coming Friday, November 16th at 9pm. They're calling it "Gaywad", (what else would you call it?) and it features a fun line-up of talent including Glitterbang, Amateur Youth, Halfbreed and DJ's Porq and Rez. It's a $5 to $10 suggested donation at the door (21+) and frankly we suggest you give $20 so we can make the Seattle Queer Music Festival happen.
And, this isn't the last you've heard about this from us…we wanna see a big gay old Woodstock happening somewhere in Seattle in 2013, complete with groupies and love makin' in the mud.
More to come.
Check out this little promo video:
Tags: Chop Suey, Gaywad, Glitterbang, Jodi Ecklund, Marcus Wilson, Portland Queer Music Festival, Seattle Queer Music Festival