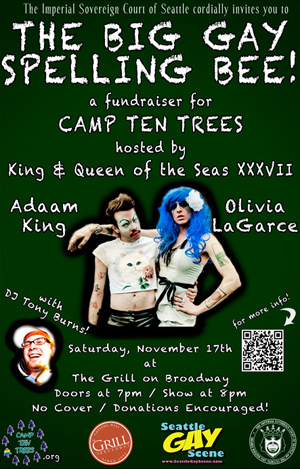 This Saturday night, November 17th, there's a very special event at The Grill on Broadway from 7pm to 10pm.
It's the "Big Gay Spelling Bee" and it's a fundraiser put together by the current reigning "King and Queen of the Seas", the lovely King, Adaam King, and his Fairy Queen, Olivia LaGarce from The Imperial Sovereign Court of Seattle and the Olympic and Rainier Empire.
Who doesn't enjoy spelling and sodomy at a gastropub?
I suppose I am obligated to try and entice you to come to this travesty of a fundraiser that is scheduled to include "spelling" and "booze" and "drag queens" and it's all for the "children" at Camp Ten Trees, which is a fine organization that provides a summer camp for both lgbtq youth and children of lgbtq parents. They are lovely and amazing and deserve all the funds you can give. They deserve a better fundraiser than this.
I suppose I should also mention, that much to my chagrin, the trampy drag sluts, the current reigning "Tuna of the Seas" putting on this ill conceived venture, managed to talk ME into participating…I don't really recall the conversation but apparently I foolishly agreed to do it. I'm guessing I must have been drugged with one of the many illegal narcotics they daily dose themselves with to cope with the futility of their drab little lives.
Sigh.
Regardless, it should be "oodles" of drunken fun to see Capitol Hill's homosexuals and lesbians get drunk for a good cause…though, judging by the other illiterate miscreants they talked into participating, this should be a cakewalk for Mr. Strangeways…most of them couldn't spell "evil" without looking at the tattoo on their hairy knuckles.
But, let's take a look at them, shall we? I'm cutting and pasting from the rather incoherent Facebook invitation. It's rather obvious why King Adaam "Ding A Ling" King or Queen "Olive Oyl" LaGross aren't participating as spellers in their own event:
Homo Arigato – It's HO MO Arigato…hopefully, Miss Arigato is a better speller than the organizers of this event.
Ursula Major – She can barely TALK, let alone spell.
Cherry sur Bete – I thought the terms of her parole prevented her from entering The Grill on Broadway?
Heather Hysteric – Who?
DonnaTella Howe – Words fail me. The correct spelling of words will probably fail her.
Ceasar Hart – "He" can't even spell "his" name correctly.
Kelsey Hart – Trainwreck: Lesbian Division.
Michael Strangeways -MOI!!!!
Alessandra Hunt – WHO #2? And why do they have billing AFTER me? OUTRAGEOUS!
So, come at your own peril. I'm sure the food and drinks at The Grill will be delicious and DJ Tony Burns will be around to spin some tunes, so the night won't be a complete disaster.
You can always come congratulate me after I wipe the floor with these no name rejects from The Kent Klown Kollege of Busted Ass Drag…if anything, this will be an ENTERTAINING train wreck.
(Visited 1 times, 1 visits today)