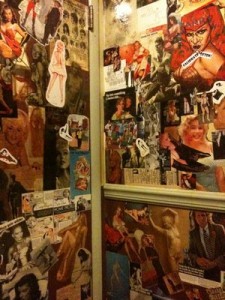 Calling all ladies! Think you're buff? Want to prove your dyke cred? 
Get served some cheap drinks by hot cocktail waitresses at one of the best (real) dive bars in Seattle: The Tin Hat, on 65th Ave NW in Ballard! Monday, Oct. 27, at 7pm, you can sign up to arm wrestle each other in an epic battle of Gal Machismo. Living in Ballard and always doing my fair share of pub crawling, I can assure you that Tin Hat is certainly one of the best. It's got pinball, awesome decor, rotating VHS movies, board games, and wicked cool bartenders. Not to mention the kitchen has the best simple food you could ask for from a bar.
Now, normally I'm not one to promote one specific establishment or another. Being in the industry, you like what you like and go where you want. But I'm here to tell you about this particular event at this particular place because it's for a good cause. Proceeds will benefit DAWN, or Domestic Abuse Women's Network. Unfortunately, almost all of us know someone who has survived abuse. (And if you don't, does it help your nerd sensibilities to aid a cause near and dear to Sir Patrick Stewart?) This organization has helped several thousand women cope, survive, communicate, and move forward with their lives.
So come out of your Capitol Hill cave and drink somewhere other than the 'Rose! Get your liquid courage early for happy hour (kitchen opens at 5pm), and stay to either throw down with some tough chicks or watch the spectacle with glee. Eye candy for everyone! Squee!
(Visited 1 times, 1 visits today)