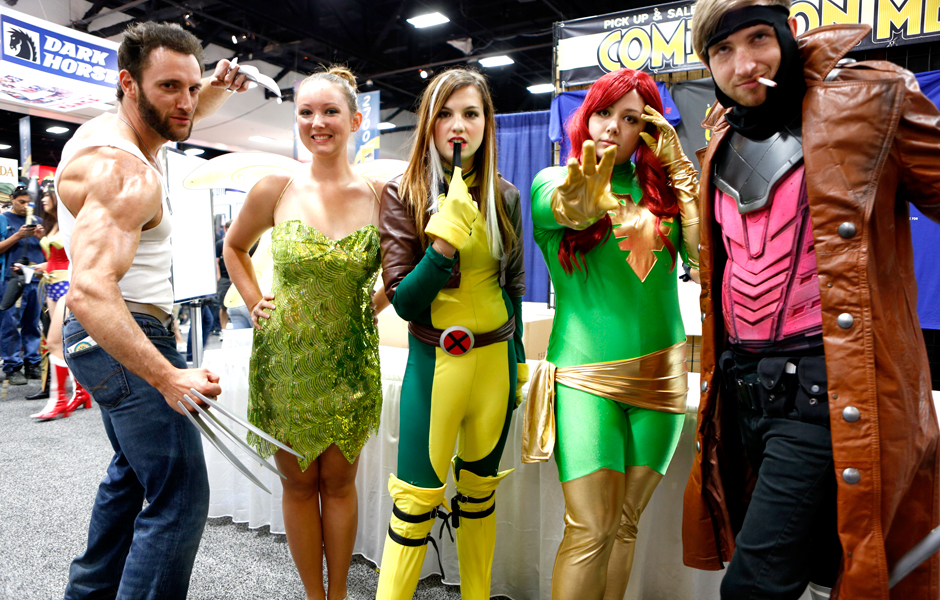 If you're one of the unfortunate few in Seattle who does not currently have a pass to this weekend's Emerald City Comic Con, I pity you. BUT. You have other nerdy options with which to live vicariously through the cosplayers and drooling fans!
Here's all the shit you don't need an ECCC pass to attend:
THURSDAY:
– This is opening night of Stripped Screw's Disney After Dark: The Road to Happily Ever After? burlesque show. Tickets are still available via brownpapertickets! Performances run through this weekend and next at the Columbia City Theater. Featuring Iva Handfull, Kutie La Bootie, Violet Tendencies, Lady Drew Blood, and many more. Watch Princess Aurora "encounter" all manner of sexiness and creatures through the woods she travels. Because princesses!
– Ok, so this one has nothing to do with fandom, but you pretty much don't get to be in the STEM fields without also being a nerd. Lesbians Who Tech is an 8,000-member strong organization aimed at having lezzies in a hetero-male-dominated field find each other, swap war stories, and find the perfect blazers (hopefully at the pop-up Sharpe Suiting). Meet like-minded professional smarties for happy hour, 5:30pm, at The WildRose, via eventbrite tickets.
FRIDAY:
– George Takei returns to Seattle! Holy shitsnacks! He'll be cutting the ribbon at the EMP to open up a new exhibit, Infinite Worlds of Science Fiction. Enjoy some drinks during his Q&A session, or just plain ogle the millions of awesome new stuff. Replicas of the TARDIS and Star Trek's Captain's Chair will be available for photo ops. Squee! Ninkasi will debut its new space beer, and you can enjoy gaming, an oxygen bar, and prizes and giveways to boot. Feel free to go in a spacey costume, and arrive there at warp speed!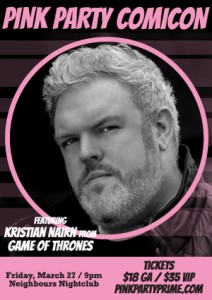 – Chances are incredibly good you've seen the ads for the Pink Party Comicon at Neighbors. Featuring special guest Game of Thrones' Kristian Nairn (Hodor), getchyer booty moving to the hot DJs starting at 9pm. And don't forget to be in your costumes—$1,000 prize for the best! Tickets start at $18 for GA and $35 for VIP.
– You'd better have your tickets already for Guardians of the Sexy, folks, because it is SOLD OUT. With two performances on Friday and Saturday each, this nerdlesque will be sure to knock your socks off! Brought to you by the people who did Slash: A Burlesque Romance Without Boundaries and Whedonesque Burlesque. Stars include Sailor St. Claire, Scarlett O'Hairdye, Sophie Maltease, and Ray Gunn, among others.
– For all you gay boys in costume who can't make it to Pink Party, head over to C.C. Attle's for stiff superhero-themed drinks! Free admission plus a costume contest! Break out your best spandex, sirs, cuz shit's gonna get awesomely weird. Maybe you'll meet your own Robin or Speedy.
SATURDAY:
– On a more somber note, you can help honor the memory of our dear Leonard Nimoy at the Convention Center at 1pm. Wear whatever you wish, black armband or no. Todd Kenreck will capture the group on camera as everyone gives their finest Vulcan salutes. No ECCC pass needed, as people will meet on the steps of the second floor, outside.
– Is there anyone out there who DIDN'T like The Fifth Element? I mean…Milla Jovovich! Well, the EMP is at it again with Campout Cinema, and this screening at 7pm is SOLD OUT. Because that opera lady. There'll be swag, trivia, prizes, and themed snacks and drinks. Sounds amazing! But alas, I'll be attending…
– AN EVENING WITH JOHN BARROWMAN. At 8pm at the Sheraton, share some drinks and laughs with Captain Jack Fucking Harkness himself! He may have a guest or two with him, and I am DYING to find out who (please let it be Alex Kingston please let it be Alex Kingston…). A few tickets are still available at the silver level, which gets you a drink ticket and hors d'oeuvres. Laughs, questions, drinks, and general gay debauchery. Wheee! (Commence jealousy…now.)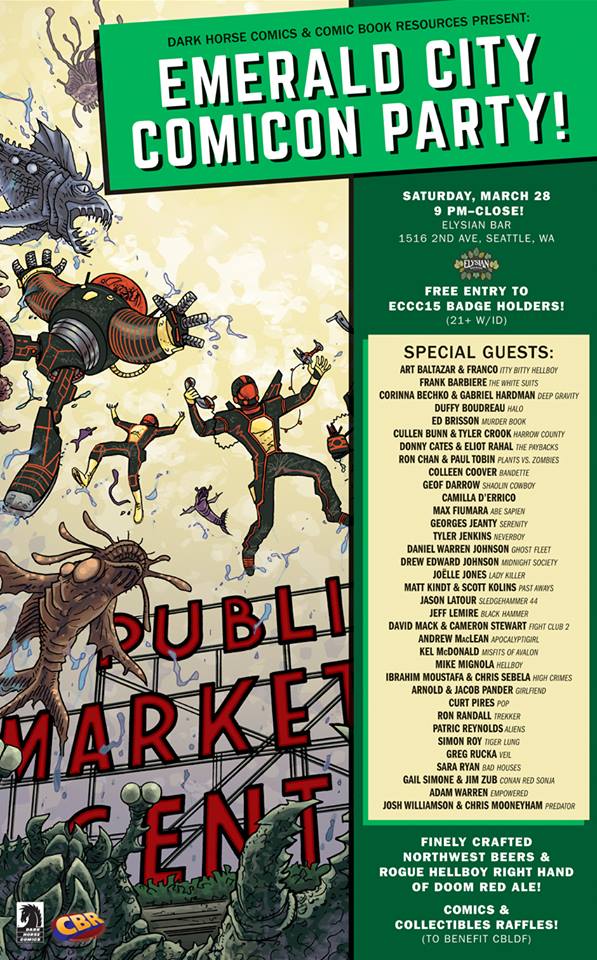 – Folks, I'm going to be blunt: I hate the building owners of the Elysian Bar downtown. They took away our beloved Noc Noc, and for that I can never forgive them. Buuuuuutttt…I may step inside just to party with Dark Horse Comics. Even though admission is free for ECCC passholders, it's not necessary in order to get a little Comic Con flavor. Party with some of the coolest artists and writers in the industry! These people are among the Big Five in comic publishers, and have brought us titles like Hellboy, Elfquest, Conan, Lady Killer, Angel & Faith, Halo, Tomb Raider, Archie, and Predator, to name a few. Hellboy Red Hand of Doom Ale will be on tap, and raffles will be held to benefit the Comic Book Legal Defense Fund, which is an incredibly worthy cause. Go! Enjoy!
SUNDAY: 

– The photo says it all! It's a treat in and of itself to get a writer out of the con madness. Let me tell you, I was a happy fucking camper when Phoenix opened. Those guys helped me do some much-needed research in preparation for writing about ECCC, and I thank them dearly. And this event is free! Hooray! Bring your fave Ms. Marvel comics and have a shit-ton of fun browsing awesome titles with especially LGBTQ content. That is, if you're not still hungover from a weekend of doing EVERYTHING EVER.
And why can't we do everything ever? When's that transporter getting invented? Though more importantly, shouldn't we have a multi-pass? (I know you heard that word in Leeloo's voice.) Enjoy the weekend, nerds, because this is just the beginning of ComiCon season! (Try not to spend your rent money.)
(Visited 3 times, 1 visits today)