I often find myself bored with the regular to-dos surrounding our much-loved gay scene. Drinks at the same bar, playing eye-slut with the regular weekend warriors. Do not get me wrong…I love a stiff drink and a little eye candy as much as any of us, yet it seems increasingly difficult to find a more interactive nightlife beyond over-boozed dancing until the inevitable stumble home.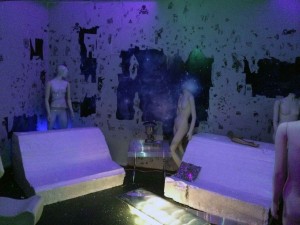 But, recently, I had the opportunity to visit a local Adult Playground that was anything but the normal.
Smash Putt is a miniature golf course set up by a group of local artists that have banded together to blend nightlife, art, and interactive entertainment. Not a course to take your nieces and nephews to. Upon entrance to the venue we were kindly yet sarcastically greeted by Andy, Smash Putt's front man, and Gertie Loins, a lovely Queen all done up in her best from 1956. The first hole we were guided to, (by Mike, the course manager), was "The Watering Hole", the Smash's bar that offered at least four quality craft brews on draught, and a small but good variety of "lowbrow" and "highbrow" liquors to wet you whistle for your mouth moistening needs. After a tour of the venue we got started with our smashing!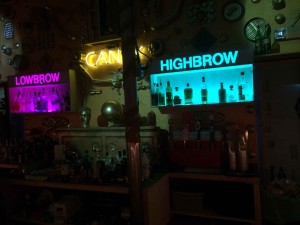 All of the course's holes are built by these artists, mostly out of industrial materials which most would consider junk. There is a very Burning Man/Mad Max feel to the bar and much of the art included the high-powered golf ball cannon.   The art holes vary from motorized foosball defense (tricky one), to hydraulic car, to the dark room laser hole. Do not skip the Infinity Hole!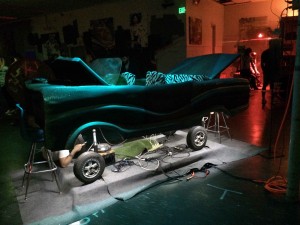 Putters are encouraged to be part of obstacles for certain holes as well as the natural urge to laugh at each other attempting the ridiculous. There is a certain level of heckling encouraged by staff and guest alike, creating a very friendly out-spoken interactive environment. No need to watch the swearing, and you will want to let a few colorful words fly, Smash Put is very much an ADULT venue, 21 and up. This is comforting for us foul mouth hussies out there that hate monitoring language.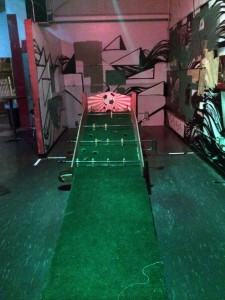 Smash Putt has two different VIP rooms with turntables, and seating for your group events. The course is temporary due to the nature of building and maintaining the mechanical course. They will be open through July this year in the old post office at 23rd and Union. Smash putt encourages buying time slot tickets in advance, but gladly welcomes the walk-ins.
To sum it up, Smash Putt is a great alternative to your regular routine, it is a place where you can be a grown-up kid, and not worry about actual kids interfering. I will definitely visit the golf apocalypse again. So if you are into industrial art that meets interactive nightlife, this is your jam.
Check them out and get your tickets here: http://www.smashputt.com
(Visited 1 times, 1 visits today)