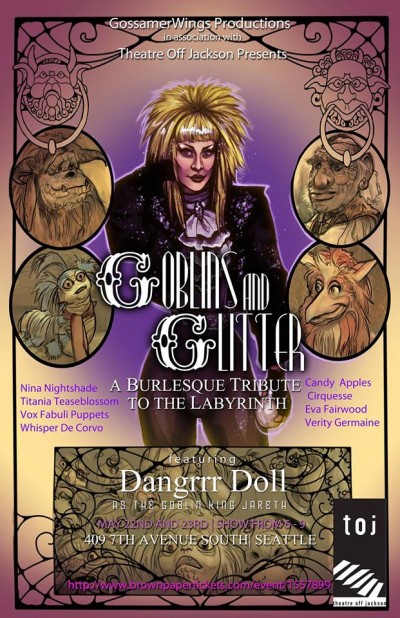 I know most of you will, or have seen Labyrinth and thought, "This is basically David Bowie and David Bowie's crotch." But for us nerds who grew up in the '80s, it was always so much more. It was one of the most celebrated works of Jim Henson, a genius in his time.
Now that Jareth's costume is on display at EMP, it's only fitting that we get a nerdlesque show out of one of the best movies of all time. "Goblins and Glitter" will be at the Theater Off Jackson this weekend, May 22-23, for two shows. Yay! Stars include Dangrr Doll from NYC, Candy Apples, Cirquesse, Eva Fairwood, Nina Nightshade (from Portland), Titania Teaseblossom, Verity Germaine, Vox Fabuli Puppets,  and Whisper De Corvo. Who will play Sarah? Find out! Emcee Mister Bawdy will guide you through the maze and may steer you wrongly at times. 
Goblins will also grace the stage as your senses take you back to the perilous world. Thankfully, you don't have to save a baby this time. Show times are at 7pm both days, and tickets are available though brownpaper. VIPs can get tables and their very own Ludo, woohoo!
And if that's not enough Labyrinth nostalgia for you, continue the celebration on Saturday, May 30th, with the Rainier Rollergirls Slambyrinth bout at the Southgate Roller Rink! Costume contest + derby girls + baked goods = YUM! Rainier Rollergirls take on Wave of Mutilation while the B-teamers Rainier Lite battle the Rodeo City Rollergirls. Tickets also on brownpaper. Get masquerade-fancy for derby? Ok!
Why are you going? Because life is just better with goblins and glitter in it. Also, David Bowie and all those who look like Jareth. 
(Visited 3 times, 1 visits today)