Her most recent film, Pitch Perfect 2, made $196 trillion  on its opening weekend, but Australian comedic actress REBEL WILSON was exposed as a LIAR by Australian magazine, Woman's Day. The curvy funny lady claims to be 29 years old and the daughter of hippie parents, but the magazine dug up classmates of Wilson's who dispute her name, her age and her upbringing.
"I studied with Rebel at Tara Anglican School for Girls in North Parramatta, Sydney," spills the source. "But no-one knew of a Rebel Wilson. Her name is – or was – Melanie Elizabeth Bownds, and she's 36 – she was born in 1979 and we left school in 1997."
Read more, over at the Ozzie rag's website and check out HIDEOUS photos of the school age Rebel.
I for one, am APPALLED by anyone who would deliberately LIE about their age, name and upbringing!
She should be run out of Hollywood for her treachery! Also: SHE'S SO FAT!!!!
Sassy Rebel responded via Twitter: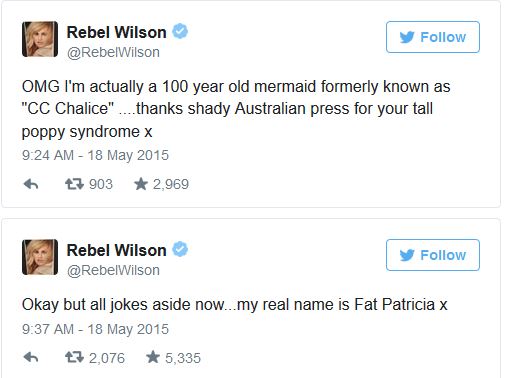 HOLLYWEIRD LIARS DISGUST US!!!
Tags: Irony, Parody, Pitch Perfect 2, Rebel Wilson