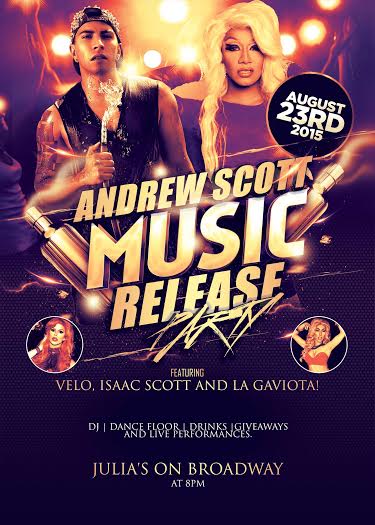 Drag diva Ms Andrew Scott, of the very talented Scott family of performers mostly based at LeFaux at Julia's on Broadway, has something to SAY!
"I've been working with local producers and artists Jack Mozie and Velo on creating original Hip-Hop and R&B music. As a drag queen, I see that most music coming from our community is campy, comedic, a parody or of the techno/house genre. I wanted to make serious, radio-worthy Hip-Hop and R&B music, and thanks to local talent, I really have. This weekend I will be releasing said music at a big event at Julia's on Broadway."
YAAAHHHHSSSS!!! Ms ANDREW SCOTT IS HAVING A BIG MUSIC RELEASE PARTY!!
It's happening this Sunday evening at Julia's on Broadway, 300 Broadway East on Capitol Hill with seating starting at 7:30pm and the show starting at 8pm and a big line-up of talent in addition to Andrew Scott: Drag Mama Isaac Scott and drag sister La Gaviota will both perform PLUS local rapper and producer VELO will be shaking his groove thang all over the Julia's stage as well!
In addition to live performances you can expect DJ music, dance opportunities so YOU can shake YOUR respective groovy thangs, and there will also be fun giveaways.

Oh, and it's only  a $5 cover, so hella cheap AND it's all ages so you CAN bring the younguns if you so desire!
But, why would you want to?
GET A BABYSITTER!
(Visited 1 times, 1 visits today)