We're THRILLED that two of our friends of won KING 5/Evening Magazine's 2015 Best of Western Washington contest in their respective categories!
Everyone's favorite bear couple, DJ George Delmar and Rich Kaalaas and their REIN FIRE RANCH have won Best Wedding Venue. The ranch is not only their home, but a ridiculously gorgeous venue location for weddings, receptions, parties and meetings. Check out the beautiful photo of the estate and check out their website if you're in the market for place to hold a major event. It's a ways out (Ravensdale in the far corners of Pierce County) but it's easier to get to than you think. Check it out!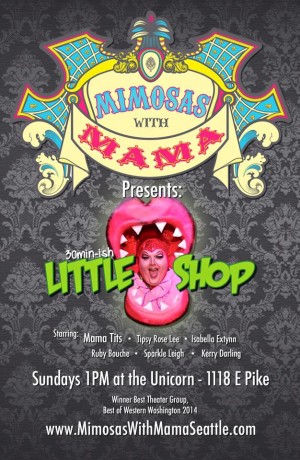 AND, of course our very own Mama Tits and her band of merry queens at "Mimosas with Mama" have snatched the title of "Best Theatre Group" for the SECOND year in a row from the likes of the 5th Avenue Theatre and Village Theatre. For those of you living under a rock, Mama and Company are the resident theater troupe at The Unicorn/Narwhal and famous for their ridiculously popular Sunday afternoon drag brunch of the same name, featuring their beloved mini-musical satires, like the currently running "Little Shop".
"Mimosas with Mama" will also offer Saturday shows in the month of December as they add a special holiday "overlay" to that month's shows featuring some of your favorite Xmas holiday tunes. (Grab your tickets HERE!) AND, "Mimosas" has become such a hit, it's going on the road in March to Puerto Vallarta for a month long visit! So, even if you're stupid enough to think Mama is "too bossy and strident" (Dumbass…she's a bossy drag queen; that's her JOB!) we encourage you to check out their terrific show. The production values are A-MAY-ZING!
Again, big juicy champagne soused congrats to Rein Fire Ranch and Mimosas with Mama!
(Visited 1 times, 1 visits today)