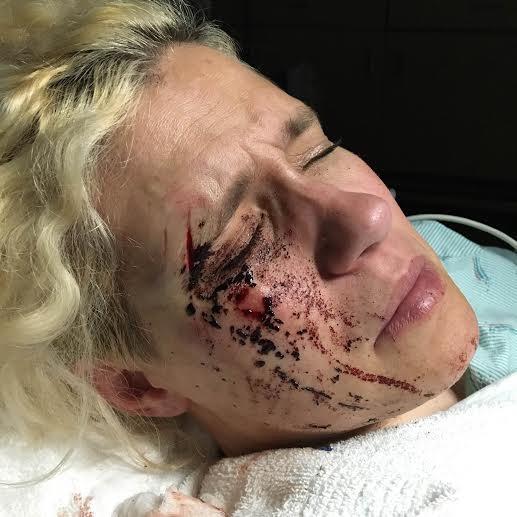 Gender Justice League's Danni Askini announced today that a 4 pm press conference will be held at Capitol Hill's Cal Anderson Park to discuss the anti-trans hate crime attack on local resident Michael Volz which occurred Wednesday night at 11th & Pike. Volz, who uses "they/them" pronouns was assaulted as they walked to their car by a white man in an orange sweatshirt and scruffy brown hair who said to Volz "Happy Pride" then proceeded to punch and choke Volz and verbally assault them with taunts including "show me your tits, you tranny cunt".  Volz made it to their car, and eventually home where friends eventually took them to a local emergency room for stitches and treatment of abrasions.
"2016 has been a year of viscous political attacks on the Transgender community with 6 anti-trans bills and now an anti-trans ballot measure," said Danni Askini, "These political attacks create an environment where hate crimes like this happen."
Michael Volz will be in attendance to share their story along with representatives from Gender Justice League & Northwest Network for BTLG Survivors of Abuse and the Seattle Police Department at the Shelter House behind the Cal Anderson Playing Fields.
People unable to attend might consider donating to Michael's recovery fund.
This press conference will precede the already scheduled Trans Pride March and Festival which will begin at 5 pm with the march itself happening at 6 pm and other events after, with events centered around Cal Anderson Park and the Capitol Hill Light Rail Station. More details on Trans Pride below:
On Friday, June 24, 2016, Trans Pride Seattle 2016 marches through the streets of Capitol Hill, ending at Cal Anderson Park, for a community festival and resource fair. Trans Pride Seattle, now in its fourth year builds on the momentum of recent victories defeating 6 anti-transgender bills in the state legislature and on the eve of signature turn in for an anti-transgender ballot measure. 5,000+ transgender and allied participants are anticipated to attend this years events. Seattle held the first-ever transgender pride in the nation in 1997. Trans Pride Seattle restarted in 2013.

The march begins at 5 p.m. on Friday, June 24 – Marchers will assemble at Nagle Place – just east of the Capitol Hill light rail station. At 6pm sharp the march will step off from the Capitol Hill Light Rail Station and marching East on John Street, at 12th Avenue the march will turn south, and then finally turn west at Olive Street. Trans Pride Seattle 2016 is a smoke-free, scent-free event and will include ASL interpretation and a reserved area for people with wheelchairs and other mobility assistance devices. There will be a resource fair as well as local food trucks.

Gender Justice League enthusiastically welcomes nationally renowned trans speakers, Kris Hayashi – Executive Director of the Transgender Law Center, Candis Cayne – Award winning actress of "Dirty, Sexy, Money" and most recently "I Am Cait", and Gabriel Foster of the Trans Justice Funding Project will speak. In a year when the transgender community has seen unprecedented legislative attacks, with 6 anti-transgender bills proposed in Washington, with another 28 proposed in other states – tensions in the transgender community are high.  Speakers will touch on HB-2 in North Carolina, and efforts here in Washington State to pass Initiative 1515 – which would strip existing non-discrimination protections from Washington's civil rights law.

Trans Pride Seattle 2016 and Gender Justice League have worked closely with local and federal law enforcement offices to ensure that increased security measures are observed after the Pulse shooting in Orlando.  Capitol Hill still experiences routine hate crimes, such as one last night against a transgender identified person.   "We are encouraging everyone to take a buddy to trans pride Seattle and not to walk alone after the event ends," said Danni Askini, Executive Director of Gender Justice League, "everyone should place their safety first – we will have a walking buddy meet up area and provide safety tips from stage."  Seattle Police Department will have an increased presence at this year's pride event.
(Visited 2 times, 1 visits today)