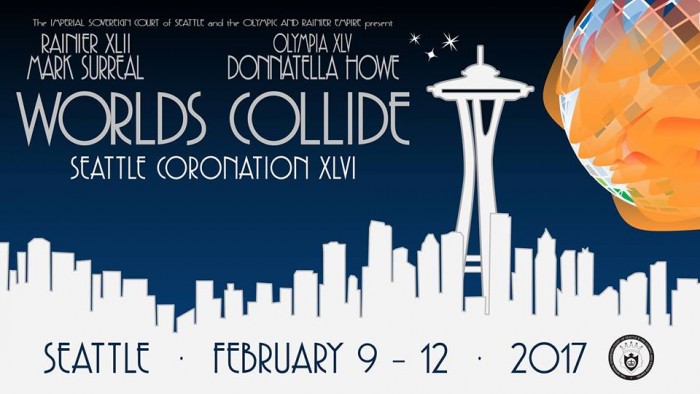 I keed, I keed…DonnaTella Howe aka "Empress Olympia 45" is one of the few pageant queens in Seattle that actually seems to DO things! She's a Busy Bee-Otch who's always running around putting on shows/fundraisers and what not and actually makes an attempt to promote things properly. She's an Old Skool Community Queen like Aleksa Manila and Gaysha Starr…so it behooves you to wave farewell as she ends her reign with her Emperor Rainier 42, Mark Surreal this weekend as "The Imperial Sovereign Court of Seattle and the Olympic and Rainier Empire" (gasps for breath) stages their biggest event of the court's year: CORONATION 2017!
Judging by the fact DonnaTella was the 45th Empress we're guessing that this week's shindig is the 46th coronation (we're good at math) and this year's theme is:
WORLDS COLLIDE!!!
How ominous…it sounds like a what happens when drag queens go "back home" for an awkward family dinner in Hee Haw, Arkansas.
"When Rhinestones and Liberalism meet up with NASCAR and Trump bumper stickers….WORLDS WILL COLLIDE!!!!"
There's two big events on Thurs/Friday: the Denver/Salt Lake Show and the Out of Town Show both happening at Neighbours earlier in the evening on those two nights. Then the Main Event itself, the coronation ball is at the Seattle Renaissance Hotel on Saturday.
For the Fri/Sat shows, just show up at the door. For the coronation, it might be wise to buy your tickets now.
Here's more skinny:
The Imperial Sovereign Court of Seattle and the Olympic and Rainier Empire
Along with
Their Most Imperial Sovereign Majesties
Rainier 42 Mark Surreal and Olympia 45 DonnaTella Howe
Presents
Coronation 2017: Worlds Collide
February 9-12, 2017
Seattle Renaissance Hotel
515 Madison St.

Event Guide

Denver/Salt Lake City Show
Thursday February 9
Neighbours Nightclub
1509 Broadway
Door 7:00pm Show 7:30pm
No Cover

Out of Town Show
Friday February 10
Neighbours
1509 Broadway
Door 6:00 Show 7:00
$15.00 Cover

Hospitality and Protocol
Saturday February 11
Seattle Renaissance Hotel
Garden Suite, Floor 27
11:00am – 3:00pm
*See below for information regarding Protocol submission*

Coronation 2017
Saturday February 11
Seattle Renaissance Hotel, Madison Ballroom
Door 5:00pm Coronation 6:00pm
$50.00 Admission
Light Fare available for purchase in Foyer – all entrees $7.00
Tickets available at Hospitality, the door or through Brown Paper Tickets through 2/9/17 http://m.bpt.me/event/2717531

Victory Brunch
Sunday February 12
Seattle Renaissance Hotel
Visions Room, Floor 28
Door 11:00am Brunch 11:30am
$35.00

Alaska Birdwater Party
Sunday February 12
CC Attle's
1701 E Olive Way
2:00pm

Host Hotel
Seattle Renaissance Hotel
515 Madison St. Seattle, WA
(Visited 1 times, 1 visits today)