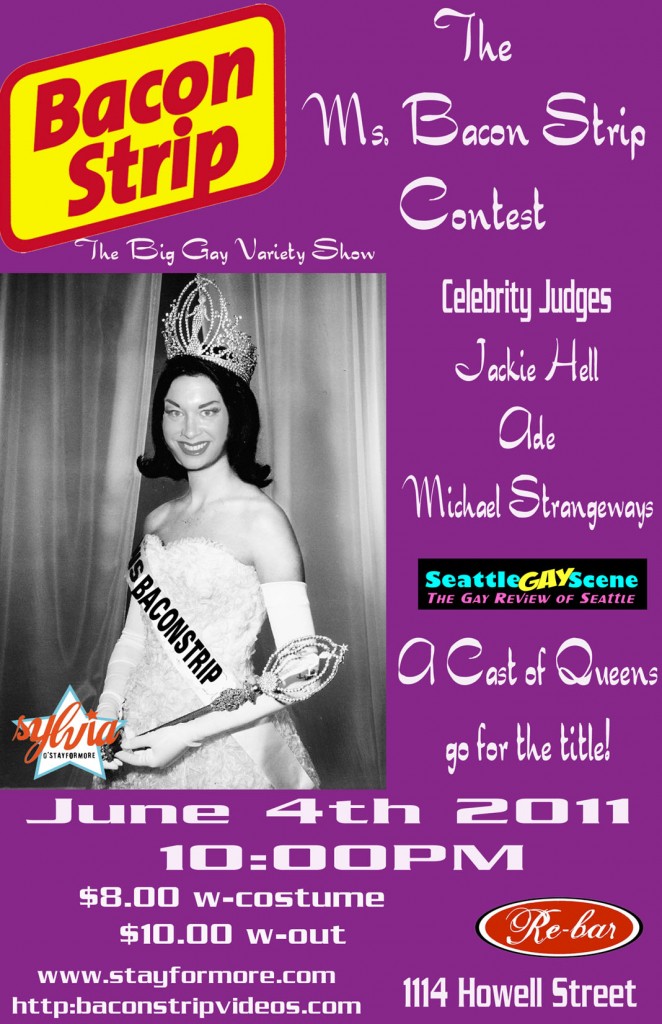 Who needs Raja, Manila, the "Heathers" and all the rest of that bland, polished RuPaul Drag Race brand of fish-faced drag and the endless lip syncing to RuPaul's autotuned "songs"? I mean, there's nothing WRONG with that brand of drag, and heaven knows we covered the hell out of it, but frankly, we tend to prefer our Queens less pretty and fashion focused and more, "let's put on a Helluva show in a bacon scented atmosphere in a beloved local art bar while wearing a dress made out of tampon applicators!" Since that's the case, we're THRILLED to announce that Seattle Gay Scene is partnering with the LURVELY Hostess with the Mostest, Miss Sylvia O'Stayformore to be the media sponsor for her beloved monthly Cabaret/Variety show, Bacon Strip! (Which basically means we're obligated to plug the hell out of each other, but in a friendly, non-sexually violent sort of way…)
And, to get the ball rolling on our marriage of convenience, (sadly only recognized in a handful of states) we're pleased to announce our participation in the very first ever Ms Bacon Strip Pageant to occur Saturday, June 4 at 10pm at that beloved den of iniquity, perversion and many, many nights of drag induced theatricalities we love to call Re-bar. Several lovely local lady lads will compete for the prestigious title of Ms Bacon Strip and a towering heap of prizes and accolades…well, maybe a crown and a pound of bacon.
The divine Sylvia will of course be our hostess and she'll be joined by a panel of "celebrity" guest judges who'll grade the lovely contestants on their talent, appearance, originality and ability to successfully tuck everything that needs a good tucking. Genuine beloved talents like the vivacious songbird, actress and fashion icon ADE will be joined by the equally vivacious bundle of talent, not much of a fashion icon, JACKIE HELL at the judges' table along with the far less vivacious and frequently pretty damn grumpy, jail bird, poseur and "wrinkled fashions purchased at Value Village and Ross" icon, your humble scribe MICHAEL STRANGEWAYS.
I'm so thrilled to write those words, I think I popped my "tuck".
And, I know I'd better do a good job of judging or Sylvia will have me replaced in a heartbeat. I know she has Tom Skerritt on speed dial…
Regardless of my merits, or lack thereof, I strongly urge you to check out the frivolity on June 4 with a reminder it's immediately following another show that night, by a different "Jackie", the one and only Miss Jackie Beat. The Queen of the Hollywood Beat Scene is jetting up for ONE night only to entertain our troops and scare our children and we're hoping she'll perform all of her filthiest songs. (We demand you spend your whole night at Re-bar that night.) We're sorta hoping Jackie B. hangs around for "Ms Bacon Strip" but also sorta scared she might insist on entering the competition and how do you say "NO!" to a living legend?
As for Ms Bacon Strip, tickets are only $8 if you're in costume/$10 without and remember that Re-bar is a CASH ONLY venue…no plastic! As to what you should WEAR as a costume, follow the pageant theme and come dressed in your favorite tiara/sash/taffeta. Parties of 10 or more can arrange for a discount by going to Sylvia's website and sending her an email to set it up with her Spicy Italian.
Oh, and for first time Bacon Strippers: There Will Be Bacon. Salty, delicious, hot bacon….more than enough reason to go to Re-bar on a Saturday night.
(Visited 1 times, 1 visits today)