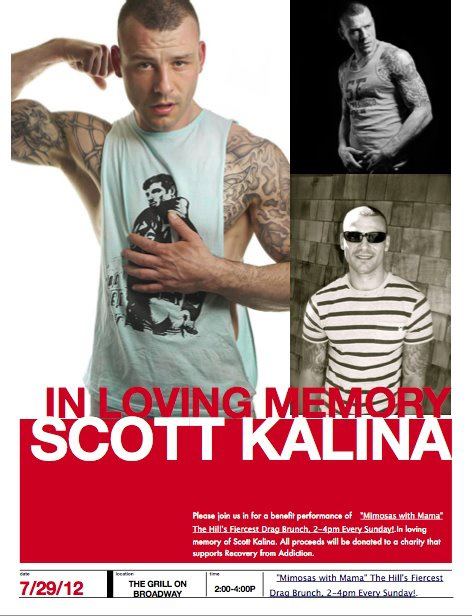 The death of Scott Kalina this past weekend shocked Capitol Hill and Seattle's LGBTQ community. To remember Scott and  honor his memory, many of Scott's friends and family members are planning memorials that will allow everyone to not only pay their respects to the man and his life, but to also raise awareness about the dangers of addiction in our community. The first announced memorial will be held this coming Sunday, July 29, 2012 at The Grill on Broadway during the weekly "Mimosas with Mama". The host for that event, Mama Tits, aka Brian Daniel Peters invites the public to attend:
In light of the recent tragedy that has affected many of us here in Seattle by the untimely death of our friend Scott Kalina, we at "Mimosas with Mama" and The Grill on Broadway have decided to turn this Sunday's show on July 29th, into a benefit. 100% of the ticket price and money raised during the show will be donated to Seattle Counseling Service in Scott's name as requested by his family. There will be many guest performers this week celebrating the life of Scott with us and his family, including Mark Finley, Aleksa Manila, Fraya Love, Ladie Chablis, Ursula Major, Tipsy Rose Lee, Atasha Manila and many more. We will also have a photo board with pictures of Scott and we encourage everyone who would like to to please bring a photo to add to the collage.

Tickets for the show are $20/person and the show is all ages. Due to the large amount of people that Scott affected, there may end up being more people then seats but we will fill the place as much as possible. Scott was a beautiful radiant loving light in our community and he brought magic into the lives of everyone he connected with. We will miss him terribly.

We invite you to please join us this Sunday July 29th at The Grill on Broadway starting at 1:30 pm to celebrate the life of our dear friend Scott Kalina.
To purchase advance tickets for Mimosas with Mama, go here.
There are also plans being made for an additional public memorial service for Scott Kalina being planned for a later date; more details to be released in the days ahead.
Tags: Memorial Service, Mimosas with Mama, Scott Kalina, The Grill on Broadway