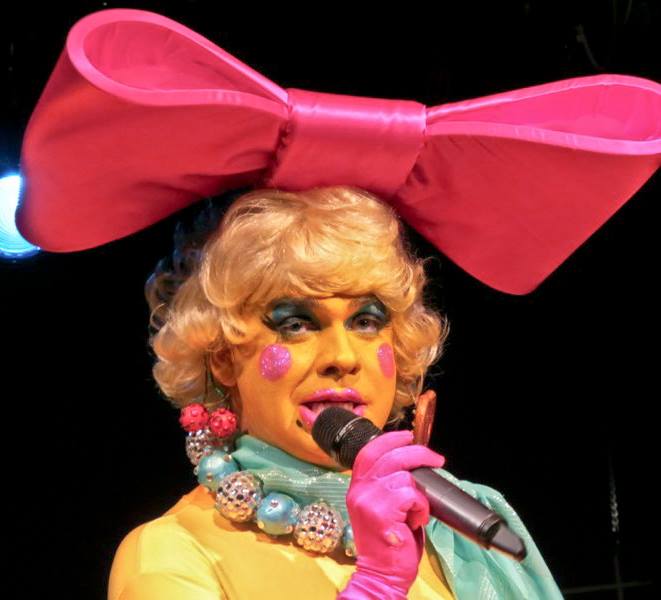 She's yellow; she's drunk and she's addicted to eating fruits…YES, the superstar of 1980s video game based parody cabaret comedy, MS PAK MAN is baaaaaaaack at Re-bar for a TWO WEEK run of her ALL NEW show, "Ms Pak Man: Bonus Stage!" which kicks off Thursday, August 27th.
The brainchild of actor Scott Shoemaker, "Ms Pak Man" was originally developed for a sketch show a couple years back where Shoemaker played the character as a washed up old hasbeen seeking a comeback. The character was so well received that the actor and his partner Freddy Molitch decided to create a "one woman" show built around the iconic character. The result was last year's very successful show, "Ms Pak Man: Multiple Lives!" at Re-bar which led to this year's all new show.
The show was conceived and directed by Mr. Moltich and also features Erin Stewart and Amalia Larson. We've also heard some rumors of puppets being utilized in the show…
And, yes, the misspelling is deliberate…PARODY keeps the LAWYERS away!!!!
You really should grab your tickets NOW for this run…it did VERY well last year and tickets are selling briskly. The show runs Thursday through Saturday, this weekend and next (Sept 3-5, 2015) with all shows starting at 8 pm. Re-bar is a 21+ venue!
If you go on Thursday, August 27th, Opening Night, you should head to Neighbours afterward for the joint opening night party/PAX pre-func event. Go here to pre-register.
Check out this fun promo video made with Michael Anderson interviewing the Superstar known as Ms Pak Man!
Tags: Ms Pakman, Ms Pakman: Bonus Stage, Parody, Re-bar, Video Games